Six Nations 2014: France test for Warren Gatland's leadership
Last updated on .From the section Rugby Union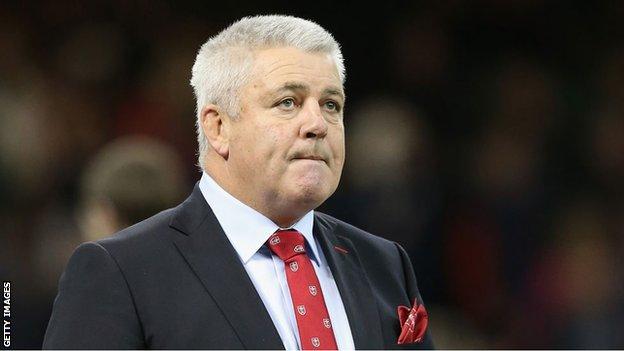 Warren Gatland has been in charge of Wales for more Test matches than any other coach.
More than Clive Rowlands; more than Graham Henry; more, even, than John Dawes who oversaw much of the Golden Era of the 1970s.
He has seen his team come within a whisker of reaching the Word Cup final in 2011 and claim Six Nations Grand Slams in 2008 and 2012.
Throw in a Heineken Cup with London Wasps and a victorious British and Irish Lions tour of Australia in 2013 and it would be reasonable to suggest the Kiwi has little left to prove.
Yet when defending champions Wales step out in the Six Nations Championship against France for Gatland's 55th game in charge, his leadership will be under scrutiny like never before.
Post-Lions slump
A lot has been written about the failure of the home nations to deliver Six Nations titles in the seasons following Lions tours.
And it's the French who appear to profit, having claimed the title in the post-Lions tour season of 1998, 2002, 2008 and 2010.
In Wales there is a different dimension - that of the fate of a national coach who's been given time off to coach the Lions.
Graham Henry did it in 2001, and by the end of February 2002 had resigned following a hammering in Dublin.
There is a major difference, of course. Gatland's Lions won in Australia. Henry's Lions lost when they really should have won.
Also, as impressive as Henry's success in changing Welsh fortunes appeared at the time, it pales in comparison with the achievements of Gatland's teams.
However, the fact that Gatland relied so heavily on Welsh players - 11 started the final Test in Sydney last July - is being seen as a factor in the apparent lethargy of some Wales players this season.
Shared responsibility
Wales were mauled in Dublin. The same back row that chop-tackled and out-competed the Irish in the quarter final of the World Cup in 2011 were wiped out at the breakdown.
The all-Lions front row of Adam Jones, Richard Hibbard and Gethin Jenkins failed to dominate the scrum.
The Irish driving line-out and maul made light work of Welsh defenders' attempts to stop it.
Yet, with the pack comprehensively outgunned, it was Mike Phillips - the scrum-half - who was the highest-profile casualty when the team to play France was announced.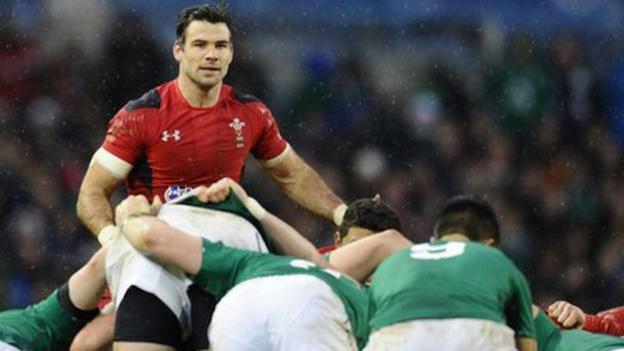 Second row Andrew Coombs was also omitted, but he would not have been expected to start in Dublin had Luke Charteris been fit.
Phillips' crime, in a position where players generally struggle if their pack is beaten, was to lose his composure.
Gatland said Phillips became enmeshed in a personal battle with his opposite number Conor Murray and a frustrated and distracting dialogue with referee Wayne Barnes.
His sin was to be undisciplined under pressure. Warren Gatland was not impressed.
Last chance saloon
Other players might have escaped the selection axe, but they have not got-off scot-free.
Gatland says the front row have been reminded of their responsibilities and the back-row - and blind-side Dan Lydiate in particular - have to up their game.
"Hopefully those guys will respond to that," Gatland told BBC Wales Sport.
"If they don't, we've been talking about the next 12 months... and for some of them they don't want this to possibly be their last game for Wales.
"I don't think those forwards are under any illusion about how big this game is for them on Friday night in terms of their own personal performance and the team performance."
Gatland is being loyal to the players who have delivered the best sustained period of success for Wales in the professional era. He is giving them a chance.
But they know the nature of the beast.
Gatland has proven himself unstinting in his backing of the direct style that has brought him success and unsentimental in his willingness to drop high-profile players for big matches - ask Brian O'Driscoll, who was dropped for the last Lions Test last summer.
No room for sentiment
Sentiment plays little part in New Zealand rugby, where Gatland's attitudes to the game were forged.
As a player, he made 17 appearances for the All Blacks but never played in a Test match.
His misfortune was to play in the same position of hooker as then-All Blacks captain Sean Fitzpatrick, who was rarely injured and always selected.
The hard-nosed approach of those New Zealand selectors is mirrored by Gatland's attitude to his teams.
Lose to France, and it will be interesting to see how many of those in the last-chance saloon are included in the Welsh team that travels to Twickenham for the next match.
Win, on the other hand, and Dublin might be remembered as an aberration - like the 14-0 defeat a team including Gareth Edwards, Barry John and JPR Williams suffered in 1970.