Six Nations 2014: Scotland not vindicated by Italy win - Johnson
Last updated on .From the section Scottish Rugby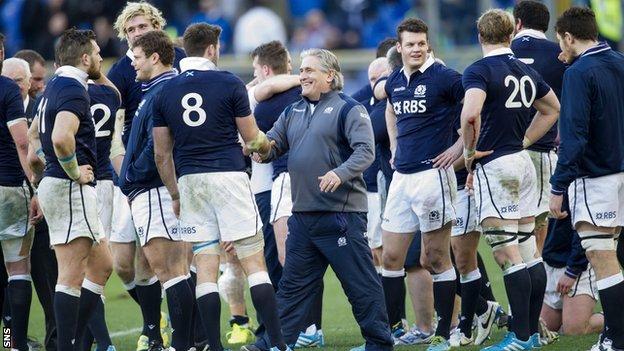 Scott Johnson insisted the dramatic 21-20 Six Nations win against Italy will mean nothing if Scotland do not replicate that type of performance.
The interim head coach also stressed that Duncan Weir's last-minute drop-goal winner does not mean Scotland are the finished article.
"When I'm down the track and we're going into competitions competing to win the tournament, then I'll be vindicated," Johnson told BBC Scotland.
"It's one game. I want consistency."
The narrow victory at the Stadio Olimpico in Rome, which ended Scotland's run of eight consecutive away defeats in the Six Nations, was sealed with only 15 seconds remaining.
It came at the end of an admirable second-half performance in which Alex Dunbar scored two tries, Scotland's first of the campaign.
Former Scotland Under-20 stand-off Tommaso Allan, who opted to play senior rugby for Italy, had earlier scored 13 points to give the hosts a healthy half-time lead.
"I'm really happy for the boys," said Johnson. "Really happy with the way they showed resolve.
"There's so much more in this team and we've got to get consistency. We owe our fans one at home next week [against France].
"I'm sick of peaks and troughs about one win. I want consistency. I want a team that can compete against anyone regularly.
"You can enjoy the moment but it's only a moment. Let's not get carried away. We get too extreme on a high and too extreme on a low. We all want the same - a consistent, competitive Scottish rugby team."
Scotland were up against a 10-2 penalty count in a first-half that saw them start brightly before falling away towards the break.
Despite some decent possession, the visitors lacked the crucial offload.
But after the break, Johnson's men appeared to click into gear as Italian intensity faded.
"The reality is, we had some issues," explained Johnson. "We needed the game sped up. The only way we could do that was to hold the ball and speed up the ruck.
"We felt that if we could do that, we had the athleticism and ability to score some tries. It took a little patience and a little trust in each other.
"This is a work in progress, this team. In 24 months you'll all thank me for the work that's going on, trust me.
"We did some really good things out there. There's signs that we're developing some partnerships I'm really delighted with.
"This centre combination is going to be special for Scotland in years to come, but they're not finished. We're not going to see the best of them for a couple of years.
"They're going to be a really formidable, world-class centre pairing."
Weir, winning his 11th Scotland cap, was understandably overwhelmed by his role in the vital victory.
"It's the stuff that you dream about when you're a kid," said the Glasgow fly-half.
"Chris Cusiter delivered an absolutely perfect pass and I just had to drop the ball correctly, keep my head down and follow that leg through.
"We really did have to dig in deep there, but we're just absolutely delighted that we've come away with the win. To do it in a dramatic fashion like that feels a wee bit special.
"We can take on France in our own back yard now with a bit of confidence."