Six Nations 2014: Improving England can hit greater heights

By Tom Fordyce
Chief sports writer
Last updated on .From the section Rugby Union678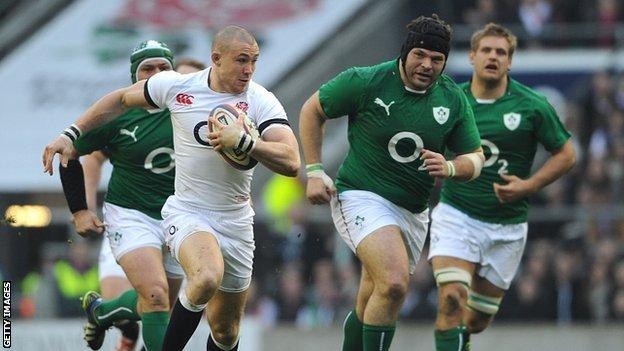 An hour and a half before this knee-knocker of a comeback triumph over Ireland, England's players had jumped off the team bus early and walked the remaining 500 yards through a surprised and already happily half-cut home support.
Had they tried the same on the way out their feet would barely have touched the ground. This was the sort of breathless, beautiful contest that breeds hyperbole. But so thrilled was the often politely reserved Twickenham crowd with what they had witnessed that coming forth to carry them home was the very least they would have offered.
A 13-10 home win that was in doubt until the final act is seldom seen as groundbreaking. That this felt like the most significant victory of Stuart Lancaster's 25-month tenure was nevertheless unavoidable - in the flushed face of the coach afterwards, the adrenaline clearly still whacking through him, in the noise produced by the cavorting support outside and in the performance out on the pitch that had triggered it all.
The defeat of the All Blacks 15 months back was supposed to be the benchmark. That this surpassed it was no slight on that memorable autumn afternoon.
Ten minutes into the second half, suddenly seven points down and appearing to be washing away on a relentless green wave, England's still callow side looked to be heading down the gurgler.
They had begun in the worst possible fashion: mangled at their very first scrum. They had then seen a quick-moving 17-phase move end with Jonny May failing to ground the ball across the try-line with his upper body already across the line.
All this, and against a side rich in experience, ripe in form and led by a lock of legend and a centre without equal.
There were other easy reasons for honourable capitulation. England lost almost as many of their scrums as they won. They ceded almost 60% of possession across the course of the game. Brian O'Driscoll has more Six Nations tries than England's centres have caps between them.
All of that, yet they never stopped thinking they could win it.
Of equal importance, they then demonstrated why - not just as they had in fighting back from an even bigger deficit against the All Blacks last November, or against France in Paris a month ago, but this time into a lead that they would not relinquish.
Everything in the electric atmosphere spelt panic. Plenty in the crowd were doing exactly that. England instead found composure, not only when a converted try behind but also when a slim three points ahead with Ireland squeezing the life out of their scrum, 22 yards from the line and two minutes from the death.
It does not suddenly make them the best side in the world, or the best England team in recent memory. The Six Nations table indicates that it doesn't even make them the best side in the tournament.
But it does provide incontrovertible evidence of a team that is improving with every month, and at a rate that should have even those jaded by long years of underachievement optimistic of what may lie ahead.
"Pardon my French, but I thought it was massive balls to go out there and play like that," said defence coach Andy Farrell afterwards, another one riding the stress hormones long into the night.
This was one of the great Six Nations battles - engrossing from first whistle to last, frightening in its unremitting intensity, both brutal and handsome (between them the two sides broke 44 tackles and made almost 800 metres with ball in hand).
It is now quite evident how Lancaster and his assistants want their team to play: with fleet-footed forward dominance, with quick ball and attacking brio, with unyielding ferocity in defence, and dash and bash through the backs.
It is also quite evident that they still have some way to go.
As in the easy stroll against Scotland a fortnight ago, they left points on the pitch that more hard-nosed outfits would be nailing down. May's error was just one example; twice in the second half they had men unmarked out wide but chose instead to burrow into an impenetrable green thicket.
But there is also a backbone upon which a beast of a team is being built. For 79 minutes Joe Launchbury was everywhere, and then in the last was somewhere no-one had any right to expect - out on the wing, his 15th tackle of the contest a tap as important as any of the others.
His second-row pairing with Courtney Lawes, up against the gnarled standard of Paul O'Connell, looked like the future come to the present. Behind them, the broken-field running of man-of-the-match Mike Brown (more metres made than any other player) was only the most eye-catching aspect of an individual display without flaws. This is a team with energy, ambition and ability.
For Ireland such narrow defeat was cruel, not least because many other referees might have awarded a penalty at that late scrum deep in English territory, or sent Owen Farrell to the sin-bin for his ill-judged first-half shoulder charge on Conor Murray.
On small margins did their Triple Crown dreams die - Brown making a diving save of a kick-ahead that would have pleased Joe Hart, the backfield entirely open had the ball got through; Jonny Sexton sticking a re-start out on the full to trigger the England set-piece that led to Danny Care's critical try.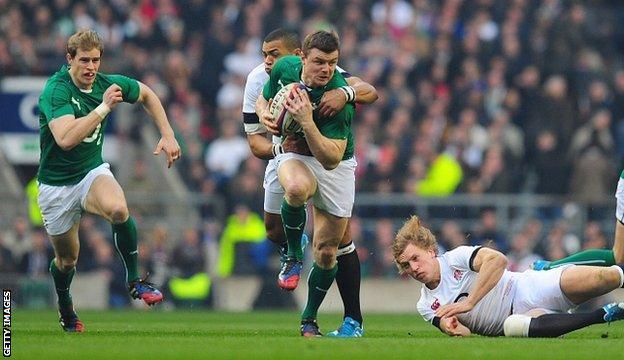 If it was not the romantic send-off for O'Driscoll on his record-equalling 139th Test appearance, on his final dance across the Twickenham turf before retirement, it could easily have had a happier ending. Ireland were equally fierce in defence and devil-may-care in attack.
O'Driscoll could yet walk away into the shadows a Six Nations champion. Ireland's current points difference is 21 better than England's and a potentially critical 36 better than Wales, with winless Italy next to travel to Dublin.
England may have a Triple Crown of their own in their sights when Wales come calling in a fortnight, yet they remain second best in the standings.
But there was little sense of that as the animated thousands streamed away into the cold night and warm bars of south-west London on Saturday night.
There was instead an appreciation of a contest that wanted for very little, and a young outfit on an upward trajectory that could yet take in some thrilling heights.