Exeter Chiefs coach Rob Baxter puts pressure on struggling side
Last updated on .From the section Rugby Union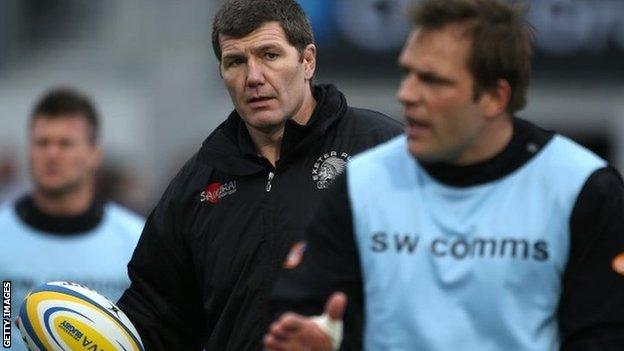 Exeter Chiefs boss Rob Baxter says his struggling side's next fixture against London Irish is a "must-win game" as their slump in form continues.
"I'm going to put a bit of pressure on the players and say it's a must-win game," Baxter told BBC Radio Devon.
"I'm looking forward to putting the pressure on and seeing how they react."
He continued: "I want to see which guys thrive on it and which guys don't really want to be told they have to win a game of rugby, who prefer to go out there and play and see what happens.
"It'll be an interesting training week and we have to get some good preparation in."
The Chiefs are in their fourth season in the Premiership and qualified for the Heineken Cup in their two most recent campaigns.
But this season has seen Exeter - who are eighth in the table - develop a frustrating habit of losing close games.
Sunday's defeat by high-flying Saracens was another game which got away from the Chiefs, who led 10-7 after 45 minutes before the home side pulled clear.
"I'm frustrated with the final result but - without making excuses - we do know what we need to work on," said Baxter.
"It's not like it's one player, but in pressure moments we've got the odd guy just making a wrong decision or getting something slightly wrong and it's ultimately putting us under pressure.
"It's in our game and we have to get it out of it, it's not something we're running away from."
Baxter added: "I think it's partly because we haven't won for a while and some guys are getting a bit frustrated and going off-script a bit but some of it is just where we are as a team.
"It's not a physical issue - it's just getting a snap decision right. All the players are very happy to take responsibility and they know the areas we want to work at and we will get better at it.
"We're going through it at the moment and I'm comfortable with that because it will make the individuals better and us a better team in the long run."