Six Nations 2014: Twickenham holds no fears for us - Adam Jones
Last updated on .From the section Rugby Union853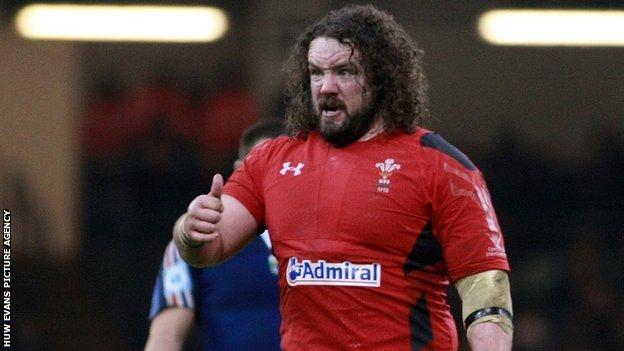 In his BBC Sport column Wales prop Adam Jones talks about the relief of beating France after their previous drubbing in Dublin and having no fear about facing Ireland's conquerors England at Twickenham in the penultimate round of the Six Nations.
Our victory over France was such a big turnaround from how we went against Ireland, the difference was quite hard to take. But we can try to kick on a bit now.
We knew we couldn't have another performance like the Dublin one and it was testament to how we trained.
The big thing for us was the week we had afterwards. Straight away we trained really hard and got back to where we needed to be mentally.
Gats [coach Warren Gatland] has always hanged his hat on the intensity of training and he's come out and said himself we were not quite where we needed to be in Dublin.
That's not to take anything away from Ireland - they were fantastic on that day and deserved to win. They didn't let us play and were outstanding.
But we got back to short, sharp sessions and it paid dividends against France. I think we knew we were capable of that sort of performance. We always knew we had that ability and we showed it.
Afterwards the boys who do drink had a few quiet ones in the bar at our hotel, but it was such a late game and we were so knackered there were no wild celebrations.
There are a couple more games to go before we can even consider a celebration and it was such a relief to get a performance like that against France.
There was a lot of pressure on a lot of the players' shoulders and you could see that on the field - and you could see it being released as the game went on.
Care runs England show
It's been nice to have a few days off, but I'm sure training will start picking up.
I spent the weekend chilling out with the family and watched the other Six Nations games - I was too stiff to do anything else.
I was very impressed with England. Ireland would probably have gone into that game favourites, but England were fantastic and we're going to have to do a lot of studying in the next couple of weeks and work out how to play against them.
Attacking-wise they're different. They look pretty good at the moment. Danny Care is running the show and Mike Brown at full-back is in a very rich vein of form so he's going to be pretty difficult to stop.
England were put under pressure at the scrums, but you've got to look at the fact Dave Wilson had only played 40 minutes this season.
Some props need to get a bit of game time under their belts and I don't think you can read too much into what happened in the scrums between England and Ireland.
I've had it on good authority from [Wilson's Bath team-mate] Paul James that Wilson is one of the better scrummagers in the Premiership this season and it's probably going to be a different story against us.
No-one should under-estimate [Ireland loose-head] Cian Healy either. He has developed no end with Ireland.
Decent scrum indicators
Overall I was happy with the scrums against France. People had written me and Geth [fellow prop Gethin Jenkins] off to a certain extent.
There were a couple of penalties from us - don't get me wrong - that were a bit frustrating.
But we've worked pretty hard with [forwards coach] Robin McBryde and Gats over the last four or five weeks and sometimes when you train and it comes off in the match, it makes it all worthwhile.
Obviously Geth got yellow-carded and I think that's two in two games when Alain Rolland has reffed him, so I think he's a bit gutted with that. But if you look at it, we were pretty solid on our ball and attacking them on theirs so that's usually a decent indicator.
I don't mind another down week. It gives you another week to freshen up and rest up if you need to. You can also do some conditioning and weights, or work on some of the specifics - ruck or scrum work.
Obviously some of the boys will go back to their French or English clubs, but I'm a fan of the down week.
The trip to Twickenham
I've had some mixed results at Twickenham. I missed the Wales defeat there in 2004 - I was injured - and played in defeats in 2006 and 2010.
But I've also won there three times, twice with Wales - 2008 and 2012 - and in the Ospreys' 33-6 Anglo-Welsh Cup win over Leicester in 2008.
I don't think going to Twickenham holds the sort of fears that Wales teams from the 1980s and 1990s had. They would have gone up there expecting to lose.
We don't fear going there any more. Yes, it's a massive challenge to go there and I'm sure they'll be smarting after last year [when Wales beat England 30-3 in Cardiff to take the Six Nations title].
But it's a fantastic stadium and we're looking forward to going there. We've had a couple of good results in 2008 and 2012 so I don't see why we can't go there and get a similar result.
All we can do is look at the next game. If we lose to England, we're out of it.
I know it's going to be very hostile, but it was hostile for them last year and similar for France at the Millennium Stadium - the atmosphere was fantastic.
As much as we're not going to have that backing in London, we're all big boys and we're not going to worry about it too much. We've just got to feed off the Twickenham atmosphere.
Missing me Boris?
I'm expecting a phone call from my big fan, London Mayor Boris Johnson.
He hasn't been in touch since we met when the 2013 British and Irish Lions squad were hosted at Downing Street last September so I guess he might do now - he's probably missing me a bit.
So no doubt he'll want to wish me good luck.
Staying in Wales
I will hopefully have everything done this week [in terms of my contract future]. But I've been hoping for that for the last month so I'm not going to cross my fingers.
It's dragging on a bit now. I've got to make sure everything's right, but hopefully it will be this week and touch wood, sorted by the weekend.
Yes, I'll probably be staying in Wales.
Adam Jones was talking to BBC Wales Sport's Gareth Roberts