Six Nations 2014: Flaky France fail to inspire - Jeremy Guscott

By Jeremy Guscott
Rugby union analyst, BBC Sport
Last updated on .From the section Rugby Union234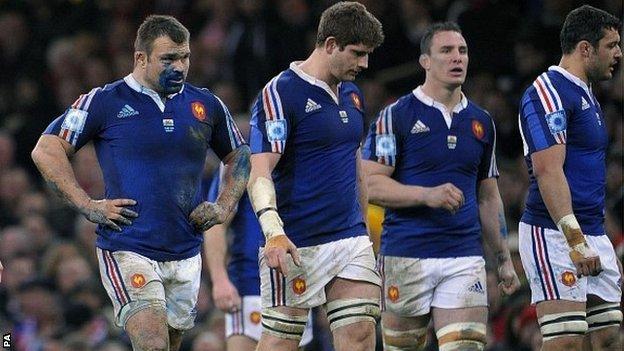 The French national side used to have a DNA; a definite, exciting way of playing.
But this has been coached out of them over the last decade. I've no idea why. Whatever the reason, watching France at the moment is like watching clowns at the circus.
The French Top 14 is attritional and forward-orientated, with the onus on discipline and kicking. However, this has always been the case in France and in years gone by this mind-set didn't affect the national team.
French rugby used to be full of characters who were brave enough to challenge the national coach and say: "We don't want to play rugby that way. We want to play rugby how we enjoy playing it."
What happened to French flair?
I sat in the Stade de France during the 30-10 win over Italy two weeks ago and I was gobsmacked at France's tactics. It was a case of 'let the forwards stick it up their jumpers and try to bully and smash their way through'. It was lacklustre and unimaginative in every single way.
The French attacking line was just so flat against Italy and so laboured as they lost 27-6 to Wales. So laboured, in fact, that the couple of scoring opportunities they had, they couldn't finish.
When Mathieu Bastareaud went through George North and got to within two yards of the Welsh try-line, he could have slipped the ball but didn't. When he finally got the ball to Hugo Bonneval, he couldn't take the catch.
There was one pass from Pascal Pape, which went straight into touch, that really summed up how the French are playing. They're clearly low on confidence, low on self-esteem, low on everything. It's all so disjointed.
Most of their tries have been from turnovers. They've hardly created anything themselves - at least, very little they've been able to turn into points. They made six or seven line-breaks against Wales, which should be enough to score a couple of tries. But they couldn't even manage that.
They've got a good scrum and line-out, a creative, quick back row, and players in their backline that score tries for fun for their club sides.
There have been maybe two glimpses of the past during this year's Six Nations Championship - Gael Fickou's winning try against England and the interception try that Bonneval finished off against Italy.
Apart from that, in no way does this current outfit resemble the French teams that came before my time, during it and immediately afterwards.
Selection issues
There are one or two selection mysteries. I don't understand why Francois Trinh-Duc isn't in the starting XV; he's playing well for Montpellier and is a class number 10.
The same goes for Clermont Auvergne scrum-half Morgan Parra. He might not be big and strong like Jean-Marc Doussain, who was replaced at half-time against Wales, but he's just a class player.
That said, he got sent off for head-butting an opponent last weekend, which might be a sign of his frustration!
What saddens me is that their players don't seem to have a voice. I cannot begin to understand how the likes of Bonneval, Yoann Huget and Wesley Fofana are happy to play in this restrictive, boring, low-risk manner. I can't imagine any of those players saying: "Nah, we don't want the ball today."
France head coach Philippe Saint-Andre likes big, strong teams that smash it up front. Given the exciting France team he played in, that's slightly weird.
Out with the old?
Every team has a leadership group, and at some stage Saint-Andre has to say: "Look guys, what is going on here? Why aren't you doing what we want you to do?"
And if the players aren't doing what the coaches want them to do, why aren't the players telling them they need to change things? So in some ways it's the players' fault for not speaking up.
There was an undercurrent of 'us and them' within the team during Marc Lievremont's time in charge.
This appears to have continued, perhaps because Saint-Andre didn't really get rid of anyone when he took over after the 2011 World Cup.
When Stuart Lancaster replaced Martin Johnson as England head coach, he got rid of some older heads whom he thought weren't a positive influence on the team and introduced new blood.
Saint-Andre probably should have done the same.
Jeremy Guscott was talking to BBC Sport's Ben Dirs.