British & Irish Cup: English clubs 'need additional funding'
By Phil Harlow
BBC South West Sport
Last updated on .From the section English Rugby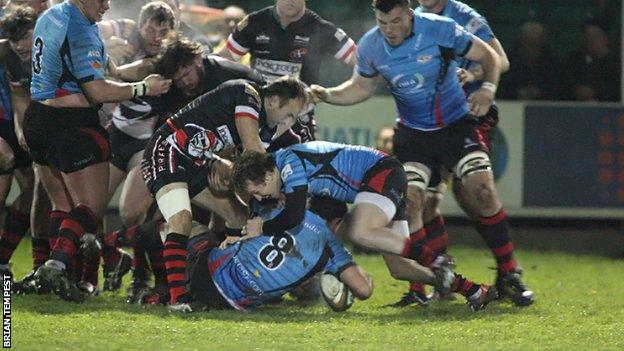 Jersey chairman Bill Dempsey says the British & Irish Cup will not be "a meaningful competition" unless English clubs receive more funding.
Championship teams face second-tier sides from Scotland, Wales and Ireland, but Dempsey said clubs from those countries receive far more in funding.
"We get £6,250, and that doesn't cover the cost of one of the trips," he said.
But an RFU spokesperson pointed to the financial incentives for reaching the competition's knock-out stages.
Jersey were eliminated in this season's group stages, having faced Cornish Pirates, Ayr and Ulster.
Dempsey drew a comparison with Scottish Premiership champions Ayr, who have full funding to take part from the Scottish Rugby Union.
"I think the cost to Ayr to take part was £28,000 and they got that back from the SRU and it's the same with the Welsh and Irish teams," he told BBC Radio Jersey.
"We've gone to Leinster, Ulster, Wales, Scotland, Penzance in the last two years. It will never become a meaningful competition until there's funding.
"If I look at the B&I Cup next season we're possibly going to lose £25,000 so it's not the most exciting thing to look at."
Since the 2012-13 season, clubs have been rewarded for making it through to the quarter-finals and beyond, with a figure of around £40,000 understood to be on offer to the winners.
"Jersey do incur significant additional costs because every away game involves flying," added the RFU spokesperson.
"We have to treat all the Championship clubs the same and there are no current plans to increase funding for the B&I Cup."
Dempsey said financial pressures in the second-tier of English rugby are a significant issue for many of the clubs.
"We're not in that position but half the teams are one person putting their hand in the pocket," he said.
"They're one person away from not being able to survive - if that person disappears, where does it leave that club?
"We want to do some pitch improvements but we're in a situation where we can only spend what we can afford."
Dempsey said he was open to the possibility of expanding the B&I Cup into a European competition, at a level beneath the Heineken Cup and the Amlin Challenge Cup.
"You can never say never," he said.
"I remember going to a Saracens v Harlequins game 20-odd years ago in Enfield and it had a crowd of 3,800 which was the highest crowd in the Premiership that day.
"Now it's 70,000 going to Twickenham, Leicester getting 20,000-odd every week, Exeter getting 8-10,000 so anything's achievable through facilities and getting people through the gate.
"They could look at developing a three-tier competition but it would depend on funding. We can't keep going to the RFU and asking for money so we might need to look outside of that and what can come from television and things like that."