Six Nations 2014: Wales' Hibbard claims 2013 England win irrelevant
Last updated on .From the section Rugby Union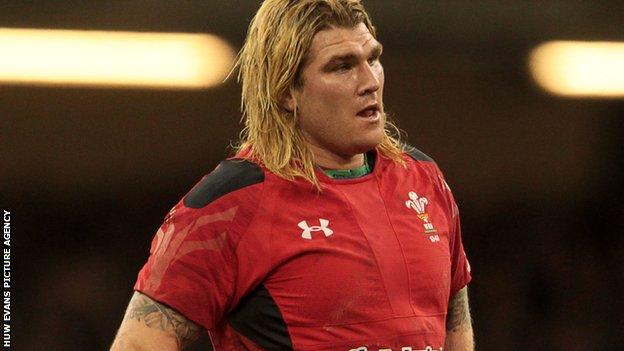 Hooker Richard Hibbard says Wales' win over England to clinch the 2013 Six Nations title will have no bearing on what happens at Twickenham on 9 March.
Defending champions Wales have to win to stay in the hunt for the 2014 Six Nations title, while England can still win a Triple Crown and the title.
"Every game is different and you take it game by game," said British and Irish Lions hooker Hibbard.
"Last year's championship to this one is totally different. I think it is going to be a physical encounter and tough."
Wales bounced back from a disappointing defeat to Ireland in Dublin to beat an unbeaten France to end their dreams of a possible Grand Slam.
Wales coach Warren Gatland saw his side produce a resounding display to beat Les Bleus by a record 27-6 margin in the Six Nations.
England, meanwhile, ended Ireland's hopes of a Grand Slam with their narrow 13-10 win at Twickenham.
Hibbard says he has been impressed at the way England have played since the opening 26-24 defeat to France in Paris.
"They are playing very well at the moment and they were unlucky not to get a result out in France," said Hibbard.
"They have had two great results since, so it is going to be a very tough game against a very competent England side playing well."
Gatland had warned his side, particularly his forwards, that some of them needed to perform against France for the sake of their Wales careers.
Captain Sam Warburton had underlined Gatland's words by stating players should not take their Test careers for granted.
Hibbard, who will join Gloucester from Ospreys at the end of the season, says the players had to respond after Gatland had thrown down the gauntlet to all of them.
"We got challenged by the coaches after Ireland and they threw the gauntlet down and we had to answer it," said Hibbard.
"Right across the squad, from 1 to 23, it was a good performance and we showed what the coaches were looking for.
"He [Gatland] threatened us all with that [last game for Wales] and he talked to us all individually about what he expected.
"It was just to perform and put it away.
"We had to be better against France and just had to be better at everything."