LV= Cup final: Exeter Chiefs' Class of 2014 hope to make history
By Andrew Birkett & Phil Harlow
BBC Sport
Last updated on .From the section Rugby Union
When you're looking for a template to follow to develop your own homegrown talent, Manchester United's 'Class of 92' isn't a bad place to start.
It's a different sport and another era, but Exeter Chiefs' academy is creating its own production line of sporting stars, headed by England winger Jack Nowell.
The Chiefs squad for Sunday's LV= Cup final against Northampton - the club's first chance of major silverware in its 143-year history - contains four academy graduates, while Nowell, centre Sam Hill and up-and-coming scrum-half Stuart Townsend helped the club get to the showpiece occasion at Sandy Park.
"There's lots of examples of this model, like the Class of 92 or the group that came through at Munster," said Rugby Football Union national academy manager John Fletcher, who works with club coaches across the country to develop young players like Nowell.
"Exeter have got a hell of a group coming through and that's not by chance," added Fletcher.
Nowell has captured most of the headlines, but fly-half Henry Slade, centre Sam Hill, number eight Dave Ewers, hooker Luke Cowan-Dickie and prop Ben Moon have also established themselves in the Chiefs first-team squad this season.
"It's been crazy and I'm thankful for everything we've been given," said Slade, who made his England Saxons debut this season alongside Hill and Ewers.
"We've had a big group of us coming through at the same time. We're all used to how we play and it's good to have familiar faces around on match-day."
Players come into the academy, which is headed up by Robin Cowling and Rob Gibson, from the age of 13 and get access to the club's coaching expertise and - as the youngsters develop physically - gym facilities.
"It's going into a specialist environment where you're exposed to professionalism," said Cowan-Dickie.
"If not for that, I wouldn't have gone to the gym and would have been a couple of years behind in terms of physical work."
The more romantic side of the system is the production of players who genuinely care about the club and community they represent.
"We want locally-based players who have an emotional affiliation with the club," said Chiefs head coach Rob Baxter, who played for Exeter throughout his 14-year playing career.
"Local lads now aspire to be here - that's fantastic and what it should all be about."
The players themselves recognise the value of the bond forged in countless age-group matches, training sessions and tours as it begins to transfer to the Premiership and international stage.
"I grew up with Luke, Jack and Henry and played against and with the guys since we were 13," said Hill.
"We've known each other a long time and it's good to see guys going well."
Ewers added: "We said a couple of years ago how special it would be to all start for the first team. We're slowing getting there now which is exciting."
But there is also a more hard-headed rationale for Exeter's focus on their academy.
Sandy Park is one of the smallest grounds in the Premiership, meaning the Chiefs can struggle to raise the same amount of revenue as some of their top-flight rivals (although their cumulative attendance of 67,003 is the eighth highest in the Premiership this season).
"On the financial side of things, the whole package of what you can achieve as a Premiership club does rely heavily on what you can produce through your academy," added Baxter.
"It's not just the guys at the top end like Jack who go on to international rugby. It's also about the guys who are very good squad and club players."
Youngsters tend not to emerge from the chrysalis of the academy as fully-fledged players ready for the rigours of the top flight. This is where the loan system, and the Chiefs' carefully cultivated relationships with local clubs slightly lower down the pyramid, is invaluable.
As well as playing for the England age-group teams, Nowell turned out for Redruth in National League Two South before subsequent spells at Championship sides Plymouth Albion and Cornish Pirates, a well-worn path for Chiefs prospects.
"It was a big thing for me to have those loan spells at Redruth, Albion and Pirates. It was my first experience of men's rugby," said Nowell.
"But as soon as the coaches at Exeter think you're ready they chuck you in."
Exeter's location also works to the club's advantage, with the Chiefs having the pick of the most promising players from the traditional rugby stronghold of Cornwall and Devon.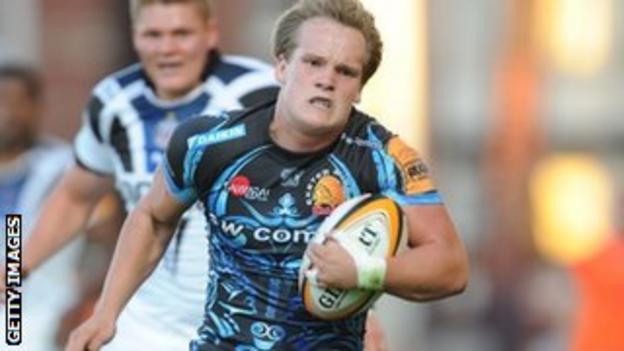 The Chiefs have centres at Truro, Ivybridge and Bicton and a network of scouts to help spot the cream of the south-west's young rugby talent.
Academy coach Ricky Pellow stressed the importance of education and producing well-rounded characters.
"They are not just rugby players, we want them to come through with qualifications," he said.
"Everyone wants to be professional rugby players, but only a small percentage of the guys that come through our system actually make it."
"We have an ethos of what we want from our players from 13 to senior level.
"I look at the guys in the senior squad and what they've done from 13 onwards shows a real appetite to work hard and be professional.
"They don't have to be the finished article. There's a lot of time from when they're 13 through to playing senior rugby for them to develop.
"As long as they show the attributes we want in young players, they'll come though.
"The future is bright, but we know there is a lot of hard work in front of us to keep pushing the development pathway to be better."
Exeter's Under-18 side lost out to Northampton in the final of the academy competition this season, their first defeat in two years.
And with players including flanker Joel Conlon and scrum-half Townsend - both in the England Under-20s set-up - coming up on the rails, there looks to be plenty more to come.
"There are exciting times ahead with the current academy players and its recent graduates," said Mike Hynard, Premiership Rugby's head of academies and development.
"More importantly the pipeline looks well stocked to supply the Chiefs' senior squad for many years to come."
Ultimately, Nowell is a textbook example of how the system should work from academy to Test side, according to Fletcher.
"I'm sure [England boss] Stuart Lancaster will come knocking - not only for Jack. There's one or two other players that he's clearly aware of," he said.