Six Nations 2014: Stuart Lancaster hints at Tom Johnson return
Last updated on .From the section English Rugby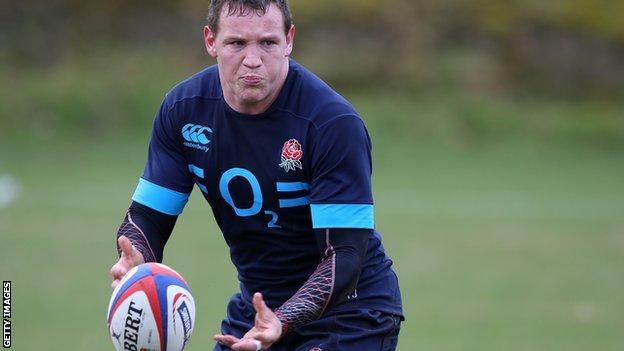 England head coach Stuart Lancaster has hinted that Exeter back-rower Tom Johnson is in pole position to fill the vacancy on the bench created by Billy Vunipola's injury.
Ben Morgan is set to start at number eight, giving Johnson - whose last cap came in 2012 - the chance to become part of the 23-man squad to face Wales.
"Tom has been excellent," Lancaster told BBC Radio 5 live.
"He was outstanding at the weekend and he brings a different dimension."
Johnson can cover all three back-row positions, making him a valuable option to have on the bench in the absence of Vunipola - who suffered an ankle injury against Ireland.
If 31-year-old Johnson is picked in the squad to face Warren Gatland's side on 9 March, the Chiefs could have two players in England's Test squad for the first time in their history.
Lancaster added: "He's a lot quicker than some of our back-rowers, he's very powerful and a great ball carrier.
"You can't cover all the bases with your bench, and you need enough cover to cover six, seven and eight.
"Matt Kvesvic is different again and then you've got the Saxons guys like Dave Ewers and Sam Dickinson.
"But I think the lads who have trained with us so far, Matt Kvsevic and certainly Tom Johnson, have earned the right to challenge first and foremost and we'll see how they go at the weekend in the Premiership.
"I haven't decided yet. We'll see how the weekend goes. From experience, you make a plan and then that changes because someone picks up an injury."
Vunipola is expected to return for Saracens before the end of the season and will also be available for selection for the summer tour to New Zealand.
Exeter Chiefs head coach Rob Baxter also sung Johnson's praises.
"It's pretty well known what Tom Johnson can do," Baxter told BBC South West Sport,
"He's got exceptional pace for a back-row forward and if he pops up in the backline he can almost play like a back.
"But he's got lots of attributes elsewhere which England have seen: he's a very good line-out forward, very good defensively and has a high work-rate.
"Tom's shown in the past and this season that he can add something different."