Ashley Morcom to stand down as Redruth coach
Last updated on .From the section English Rugby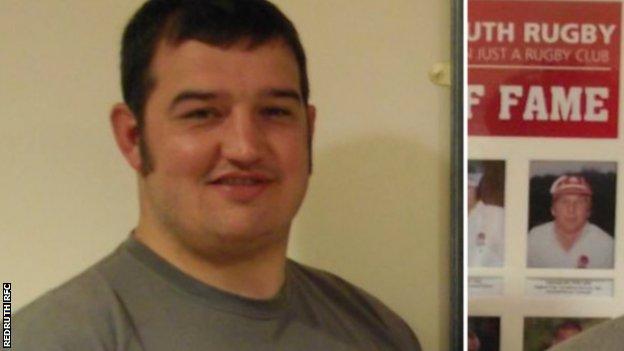 Redruth head coach Ashley Morcom will step down from his role at the end of the season, citing work and family commitments as his reasons.
Morcom, a former Reds player, stepped up from his previous role as forwards coach at the start of the season.
The cash-strapped club have endured a turbulent season, with players not being paid since January and major boardroom upheaval.
"It's not something I took lightly," he told BBC Radio Cornwall.
Redruth plan to recruit a new head coach before the end of the season.
"We are very grateful to Ash for his hard work during what has been a testing season both on and off the pitch and we all look forward to his continued contribution," read a statement from the club.
The 32-year-old said he regretted having to make the decision and expects to remain at the club in a coaching capacity next season.
"I've been toying with it for a while," he said.
"This season has been very full on and I haven't got the time that the job deserves. I'm not walking away completely - I'm hoping they'll still have me there in some form so I can still do my coaching but my family has got to come first.
"It's not been an easy decision but it's made now. It's important we get someone in place as quickly as we can so we get ready for next season.
"The club were a little bit shocked. A lot of them are disappointed I'm going but they understood my problems with it all. It hasn't been easy and we're all still trying to get used to it."
Redruth's financial struggles have made life difficult for Morcom, with experienced players leaving the club after the decision to stop paying them was taken and low numbers at training sessions.
"The financial situation is getting better. We've got people in charge who are businessmen and understand the ins and outs of everything.
"It's a massive blow to play in the national leagues and not have any money. I think what Redruth have to do is decide who their key players are next year and try to find a way of reimbursing their time."
The Reds are 10th in the National League Two South table, but only three points above the relegation zone with eight games remaining.