Six Nations 2014: Non Evans says England are vulnerable

By Non Evans
Former Wales full-back
Last updated on .From the section Rugby Union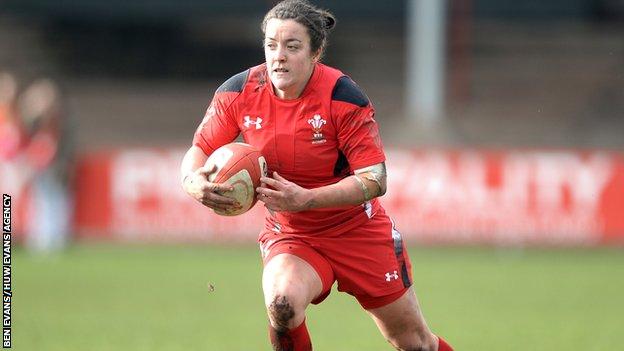 After a three straight defeats in the 2014 Six Nations, Non Evans highlights the task facing Wales' Women against their English counterparts on Saturday at Twickenham Stoop, London (19:30)
England are vulnerable and they are not the force people think they are.
The problem with England is that once they score a few tries they can really turn the screw and the floodgates can open.
Wales just have to give it everything, stick to their game plan and ruffle England's feathers.
But facing England at the Stoop is always a tough one for Wales.
It doesn't get much bigger, and they always get a big crowd and huge support.
They have lost one game this season - 18-6 against against France - and they only just beat Ireland in the last outing.
That win against Ireland was by a solitary try, and apart from the win of Scotland, every game has been very, very close.
The Welsh performances have been pretty good so far in the tournament but they just haven't had the results.
Wales have made one change with Ffion Bowen coming in on the wing and her big strength is her work in defence, and you always need that against England.
Wales have created plenty of chances so far but they have been unable to finish them off.
All three games they have lost in the latter stages of the second half having been right in each game up until then.
The first two games were lost in the last five or ten minutes and even against France it was 3-0 to the visitors in Aberavon at half-time.
With the elements, and particularly a strong wind, Wales should have capitalised but were unable to once again, but there is no doubt that the final score of 27-0 flattered France.
Wales' problem is that they have been camped in their own 22 for large parts of each game and they have been unable to get out of there and have conceded tries to the rolling maul.
Hopefully, that won't happen against England and we will give them a good game. I believe Wales can be very competitive with England.
The English do have a very big pack, as most of the teams in this years Six Nations, and Wales have a light pack and there is no doubt that has been a problem.
Nearly every try Wales has conceded has been from a rolling maul or a driving lineout.
I'm sure Wales coach Rhys Edwards has been working on defending both those facets of play and also their exit strategy from their own 22.
You always find in Women's rugby once a team is stuck in their 22, it is always hard to get out of there. The teams just don't have a Leigh Halfpenny to deliver a booming clearance from their own line.
Wales won't be feeling that confident but every sports man and women knows they have to pick themselves up after a defeat or setback.
The Welsh girls have to do that and, having spoken to some of them, there appears to be a really good feeling within the squad.
Every side needs that and they will know any of their last three games could have gone either way. Wales have produced decent performances, if not results.
What we have seen is that Wales have improved with every game and this is the real positive ahead of the England game.