Mike Blair column: Scotland need ambition and pace to beat France

By Mike Blair
Former Scotland scrum-half
Last updated on .From the section Rugby Union122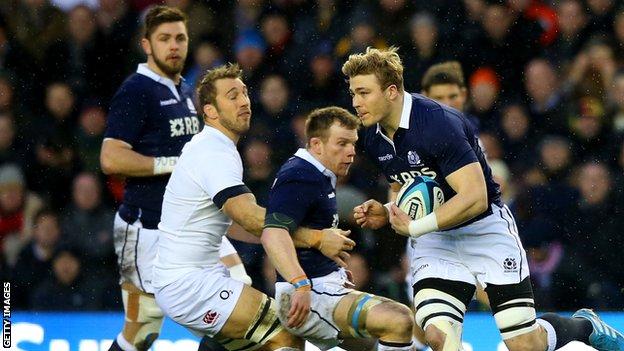 Selection is probably the toughest part of being a head coach.
Factors like form, balance, tactics, consistency, opportunities, leadership and experience will all come into Scott Johnson's reckoning.
Once he's decided on his team the next bit is explaining to those not involved why they aren't playing, the correct choice of language and approach to each different individual to keep them motivated, is absolutely key.
Some players need their egos massaged, some react better to tough love but what's clear from Johnson is that he's going to tell it how it is - to the media and to his players. If you get that feedback you can't complain too much, you might have a bruised ego for a bit but you know where you stand.
Man management and getting the best out of players isn't an exact science but much of a team's performance can rely on this. We'll soon see how Kelly Brown and Dave Denton in particular react to their recalls.
You wonder what the mindset of this Scottish team will be leading into Saturday's game; whether there any lingering questions about what performance we are going to see?
Consistency of individual and team performance is the Holy Grail of international rugby and now, in the lead-up to the World Cup, the Scots need to start this journey.
On the positive side, France are not at their flowing best so far in this championship and unsure of what performance they themselves will give.
I'm quite confident about Scotland's chances but a lot of things are going to have to go well. It starts at the set-piece of course and how the French will approach the game.
Two years ago, Scotland dominated at Murrayfield playing a fast tempo, offloading game for the first 60 minutes but with 20 minutes to go the French slowed everything down, cranked up the power in the scrum and drove their lineouts - squeezing the life out of the Scots.
The best way to beat this French side is to play with ambition and pace, getting the weighty visiting side running on the heavy Murrayfield surface, especially targeting Sebastien Vahaamahina and Mathieu Bastaraud to constantly make tackles and decisions.
Because the French will be under a bit of pressure and potentially lacking a bit of confidence themselves after their poor performance against Wales they will look to the set-piece to work their way into the game. Don't let them settle, frustrate them with ball in hand.

The French have always had a formidable scrummage and this is where Ryan Grant, Scott Lawson and, in particular, Geoff Cross on the tight-head, will have to be at their most cohesive.
If France get the edge here then they will not be rushing to feed their backs. Cross solidified things considerably in Rome and his job, first and foremost, is scrum-time. Do that efficiently on Saturday and I would happily see him walking around the rest of the time.
What else do you do against a team slightly low in confidence like the French? Don't give them easy yards or points through ill-discipline.
Of course there will be some situations where a penalty is forced, like at a scrum or a 'holding on' penalty but it's the unforced penalties that need to be kept to a minimum - going off your feet in contact or offsides - need to be avoided.
In defence Scotland must pressure the French through line speed. Get up in the faces quickly, don't let them settle.
The French won't like the pitch and if the Scots get in amongst them they will soon start feeling sorry from themselves, the Murrayfield roar will pick up and there will only be one winner. Maybe...