Six Nations 2014: Guscott & Davies on England v Wales

By Jeremy Guscott & Jonathan Davies
Rugby union analysts, BBC Sport
Last updated on .From the section Rugby Union662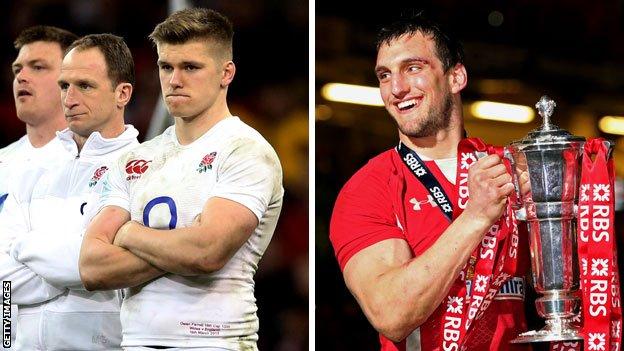 It is one of rugby union's great rivalries and the 2014 fixture between England and Wales will have extra spice after last year's thumping win for Sunday's visitors.
That 30-3 victory not only secured Wales the title for the second year in a row and denied England a Grand Slam, it also levelled the sides at 56 wins apiece, with 12 draws, since the first meeting in 1881.
England and Wales are joint top of the Six Nations table, level on four points with France and Ireland, going into the penultimate round of matches.
Here former England centre Jeremy Guscott and ex-Wales fly-half Jonathan Davies, who will both be among the BBC One experts on Sunday, guide you through the key issues.
Don't believe the hype?
Jeremy Guscott: Being English, I'm not going to go along with all the chat about this being the biggest game for the two sides. As far as I'm concerned Scotland, Ireland and France want to beat England just as much as Wales do.
During my career, I played them eight times and won seven. We didn't seem to have many problems back then, but that was just that era and England are supposed to be in their "wilderness years" against Wales at the moment, although they've only lost three in a row.
Jonathan Davies: Twickenham is a great place to play and a great place to win. The England players have started walking through the car park because they want to feel the supporters up close.
As a Wales player, when you drive through the West car park and see all the picnic baskets and champagne you don't need any motivation - it's on.
England's players will never forget 2013
JG: England will be thinking "it's about time we won one" but although a lot's been made about them avenging their defeat last year, victory on Sunday will not undo the pain of that defeat.
I lost a Grand-Slam decider against Scotland in 1990 and the enjoyment we had as a team when we beat them in 1991 in no way made up for loss in 1990. It's impossible.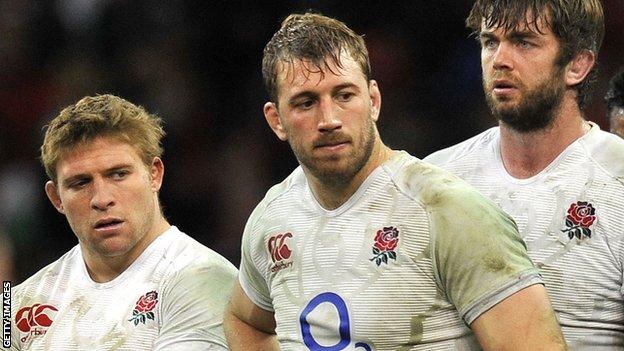 That loss stays with you for the rest of your life - you can't get away from losing a Grand Slam.
The loser on Sunday goes home, while the winner can potentially still win the 2014 Championship - although current leaders Ireland have such a good points advantage and it's hard to see the Twickenham victors making much of a dent in that this weekend.
The winning margin will be the furthest thing from their minds, though. Victory is all that matters at Twickenham.
The battle up front
JG: I would be disappointed if Graham Rowntree, the coach of England's forwards, hasn't learned anything about the Welsh front row having been on the last two Lions tours. If he doesn't know how to get the better of Wales tight-head Adam Jones now then he never will.
Wales were well on top in the scrums last year - winning four scrum penalties to one - but Steve Walsh is not the referee this year, although he will be one of the touch judges, and with another year's experience you would expect the scrum to be pretty equal.
The England line-out has been pretty much immaculate when Dylan Hartley has been on the field and Courtney Lawes, who calls the throws, has won more line-outs (19) than any other player in this year's tournament and also has the most steals (three).
Wales have not lost many line-outs but they lost a couple of crucial throws in their defeat by Ireland and that, combined with the loss of injured 6ft 9in lock Luke Charteris on Friday, puts a bit more pressure on their line-out.
Golden Brown
JD: Wales can't kick loosely to England full-back Mike Brown. He is deceptively strong, can step off both feet and has great balance - plus he also kicks well off his left foot.
He has waited a long time for his opportunity and he is confident at the moment, leading the tournament in men beaten (13, along with England wing Jonny May and France full-back Brice Dulin), metres made (265) and clean breaks (six).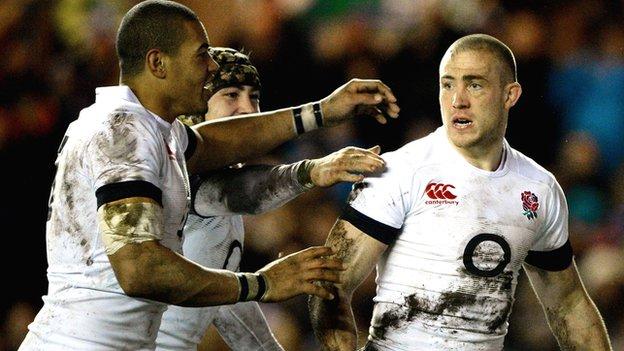 Wales need to kick well and compete for it in order to trap Brown before he can do any damage.
JG: It must be satisfying for Mike Brown that he's finally getting recognition at international level. He's been outstanding in the Premiership for several years and this year he's made it at Test level.
It will be interesting to see if Wales kick to touch and trust their line-out or kick long to try and turn the England back three (the wingers and full-back), because both options carry potential dangers.
We know Wales are susceptible to counter-attacks so they need to kick so they can contest it - they want George North, Jonathan Davies and Alex Cuthbert challenging the England back three for possession.
If Wales don't get their kicking game right, England will punish them.
Fight the power
JG: Wales coach Warren Gatland employs a power-based game, nicknamed Warrenball by the Australians, but it would be naive if Wales think they can just overpower England.
Having said that, they don't have much variation in their gameplan - or none that anyone's seen yet.
Ireland proved if you hit them hard in defence they've got nowhere to go and I'd expect England to do the same.
That's not to say Wales are not a good side - they are the defending champions, let's not forget.
They have unbelievable talent and if Wales' top players fire on Sunday, England will find it difficult to win the game. Man for man, Wales will believe they are the better team but what you cannot account for is will to win.
JD: I can't see Wales changing their tactics too much. They outmuscled England last year and I think they will try to do the same again.
Wales will attack the England front row and their scrum. If they can get on the front foot there, Wales have the proven ability and physicality behind to damage England, which I don't think Ireland did.
Back row battle
JG: For me the key contest is in the back row - who will win the breakdown battle? If England are naive enough to send runners on their own they will get turned over by Wales' back-rowers, but Stuart Lancaster's men are smarter than that.
Billy Vunipola is a loss for England at number eight but Ben Morgan has carried well as a replacement - England will be hoping he can do the same from the start on Sunday.
JD: England have a lot of ball carriers but if Wales can play with the intensity and defensive structure they did against France, I am not sure they will have the confidence to carry the ball in the same way. England outside centre Luther Burrell could have key role to play in that area.
With Dan Lydiate chopping them down and Sam Warburton and Taulupe Faletau over the ball, there could be the opportunity for Wales to create and exploit turnovers, so the breakdown will be significant.
Who are the key men?
JG: Wales' momentum is created by inside centre Jamie Roberts and if the likes of Chris Robshaw, Owen Farrell and Billy Twelvetrees and can stop the Welsh battering ram on the gainline that could have a significant bearing on the game.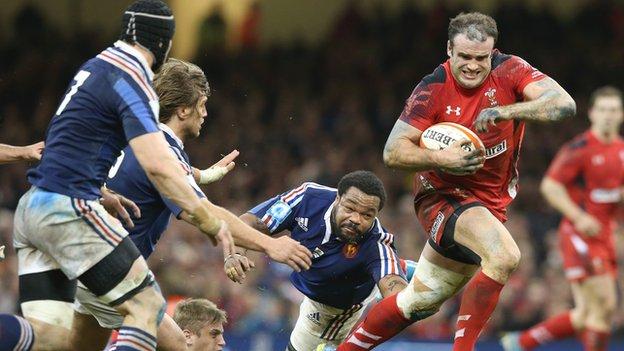 JD: The two key players for England are the Harlequins pair of scrum-half Danny Care and full-back Brown. England have played at a high tempo this year and Care is the catalyst for that.
He controls it with his use of the tap-and-go, quick passing and breaks. Fly-half Farrell is also playing well and is a confident type of guy but we don't know how good these half-backs are on the back foot, because they haven't been yet in this championship…
So who's going to win?
JD: If you go on form, you have to look at England. They have got their confidence back and they have played consistently well so far, even though they will still be wondering how they lost to France on the first weekend.
They will go in as slight favourites because of their consistency and home advantage. If Wales play like they did against Ireland, they won't win. If they play like they did against France, I would expect them to win.
JG: The side that wins will be the side that gives away the fewest penalties. Wales gave away almost 20 penalties against Ireland and also got turned over about 20 times, while England did the same against France - and the results of those games tell you the effect of that sort of ill-discipline.
England have home advantage and not too many teams lose at home. Lancaster's team is coming together and this is their next big step following the win over an experienced Ireland side.
Guscott's verdict: England will win by three to six points.
Jerry was talking to BBC Sport's James Standley.