Six Nations 2014: Ireland's Iain Henderson prefers back-row start
Last updated on .From the section Rugby Union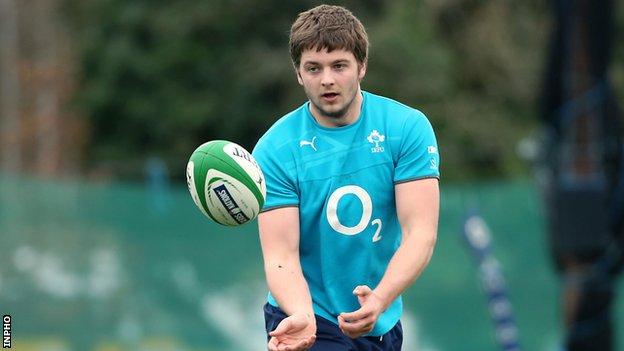 Iain Henderson has revealed he prefers playing in the back row as he prepares to start his first Six Nations match for Ireland on Saturday.
The versatile Ulster player starts at number six against Italy in place of injured Munster flanker Peter O'Mahony.
Coach Joe Schmidt has hinted Henderson may finish the game in the second row.
"I'm happy to play in either position because I know I'm young and I need experience but I probably prefer playing back row," said Henderson.
The 22-year-old, who will earn his ninth cap in the Aviva Stadium, is enjoying working under Joe Schmidt, who expects all his players to undertake extensive video analysis to improve their performance.
Far from regarding it as a chore, Henderson is relishing the New Zealander's attention to detail.
"Everything is upped a gear and you're put under a lot of pressure," he said.
"You need to know your detail very well for the training pitch because there is no hanging about.
"He [Schmidt] manages us on our feet very well because you're only out on the pitch really for 45 minutes and you've got to make sure those 45 minutes are spot on.
"You need to make sure you get your detail nailed on before you go out and you know what lines you are running, you need to know where you are supposed to be, so as soon as you are in the pitch you know exactly what is happening and everything runs like clockwork."
With versatility comes the added burden of having to cover all the calls for two positions, but Henderson is confident he can step in for O'Mahony with the minimum of fuss.
"Because I've been training and know my detail all the way through, I can step in for Pete," Henderson said.
"Everyone is comfortable and knows their role.
"Everyone is on the same page so if we do get brought in everyone knows what is going on and is prepared to come in anywhere they need to come in. "