Six Nations 2014: The remaking of England full-back Mike Brown

By Tom Fordyce
Chief sports writer
Last updated on .From the section Rugby Union135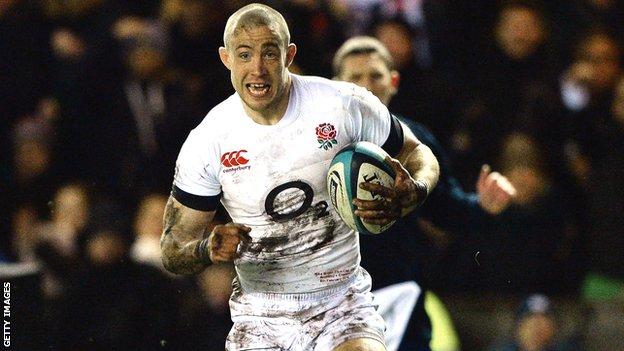 More metres made than any other player in this Six Nations. More clean breaks. Two man-of-the-match awards. Two tries. England's player of the autumn internationals.
For Mike Brown, considered by many to be as solid and unspectacular as his name, it is quite some transformation.
This is a man who waited four years between his third and fourth England caps, who failed to make last summer's Lions squad or reserve list, who never played as a kid for his county or any age-group sides.
At 28, Brown is four years older than England's most capped full-back Matt Perry was when he made the last of his 36 international appearances.
How has Brown, set to face Wales at Twickenham on Sunday, gone from foot-soldier to flier, from Steady Eddie to fancy-dan?
Brown himself is loathe to agree with, let alone address, that assessment. Even in the week when he received a personal video message from former Manchester United goalkeeper Peter Schmeichel after his own goalkeeper-style save against Ireland, he remains both reserved and reticent.
"Being on the rugby pitch is where I feel more confident in life," he says. "As soon as I step out there I feel confident. I feel I grow as a person."
It is left to those who have worked most closely with him to sing his praises, to cast a light on the long hours and hard yards that are finally paying a rich dividend.
Brian Ashton was the first England coach to give him his chance, all the way back in the summer of 2007, when the involvement of Bath, Leicester and Wasps in the season's cup crescendos forced him to take a punt on the untested and tired.
"It was a development tour, and he was a development player," says Ashton, of the two-week trip to South Africa. "No-one knew how difficult that tour would be, not just in the opposition - South Africa were a few months off winning the World Cup - but with the virus that laid everyone low for the entire fortnight. Mike never really got the opportunity to demonstrate the form he'd shown in the Premiership.
"There was always a feeling that he was a dependable full-back rather than an outstanding one. Maybe there was an air of that about the way he played. He also had stiff competition. Both Ben Foden and Delon Armitage had spells of playing very well for England at 15.
"When he was recalled, England used him on the wing. He can do a good job there, but people weren't going to see the best side of him. He's not going to finish things off from 50 metres out with sheer pace.
"Now he's had a steady run of games in his best position, he's been able to display the characteristics most associated with him: excellent under the high ball, a strong left boot, being very adept at counter-attacking over a short distance of 10 to 15m.
"To a lot of people, that was his game. But he has blossomed over the past six months and added a lot more."
One critical figure in that gradual evolution is Margot Wells, wife of former Olympic 100m champion Allan Wells, a sprint coach with a long track record of transferring those skills to the rugby pitch.
"They always start off with 'Make me faster'," says Wells drily.
"But we got a big breakthrough with Mike last November. We work on his body functionality, making him more efficient - his balance, his explosiveness, how his body works as a single mechanism."
Brown is appreciative enough to pay Wells £100 a week from his own pocket. Each day he works through 15 to 20 minutes of drills, sometimes in the gym attached to Wells' house in Guildford, often on his own before training with Quins or England.
Wells' methods can sound to the uninitiated like some sort of athletic witchcraft. Even her pupil struggles to explain the spell.
"It's hard for all of us to get our heads around," admits Brown. "I don't know how she does it, but she manages to come up with these strange exercises, making you feel sharper, making you more explosive.
"It means he can kick further, run faster and break more tackles," says Wells, practically. "We have improved his posture. He gets injured less.
"My motto is, why train if training doesn't make you feel better? Not training is better than the wrong training. The confidence comes from the fact that I give a player the body that allows them to do what they wanted to do in the first place."
Wells says Brown's exclusion from Warren Gatland's Lions squad last summer - a shame but not a shock, as she puts it - gave the pair a chance to take stock. He was clearly not doing quite enough. So what separated him from Lions incumbent Leigh Halfpenny, from the dashing tribes of Israel - Australia's Israel Folau and New Zealand's Israel Dagg?
"Mike was a good full-back before," she says. "He was always good under the high ball, always a good kicker, never seen him out of position in defence, his support play really good.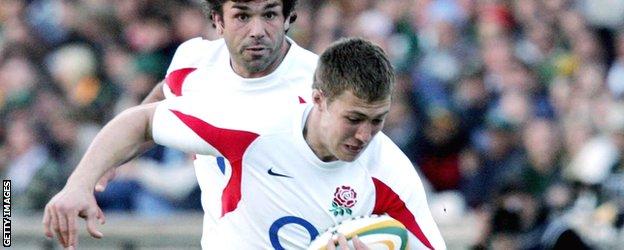 "But his ability to stay on his feet has improved. He doesn't get knocked off the ball, and his ability to break tackles has improved massively.
"Physically, he used to have big shoulders and no hips. He's much squarer now, and that means that while he doesn't look particularly heavy, he can break tackles without carrying massive weight."
England supporters first noticed the results in the 20-13 autumn international win over the Wallabies. Harlequins fans felt their secret was finally being shared.
"There's been a long-term misconception about his pace. It's actually never been an issue," says Nick Easter, Brown's long-time club team-mate and former England number eight.
"He's always had an amazing ability, just when you don't think it's on, to beat the first covering man. He accelerates with his first couple of steps. That immediately gets the whole team on the front foot.
"But he has added new skills. His awareness of those around him has improved. He would always back himself to take on the opposition, but his awareness of the other runners in that back three has come on.
"He's now looking to put others in space rather than just looking for space himself. A few years ago he might not have made that pass to Danny Care that set up the try against Ireland."
Ashton, too, has had time to savour the leap forward from his protégée, even as he himself is laid up at home after a second hip replacement.
"His footwork, which was already good, has got better," he says. "He is an increasingly elusive runner, and he comes into contact low-slung so he will always break the first tackle unless it's very good.
"He believes he has got quicker. Whether that's actually true or not, if he thinks it, it will make a difference. Margot can build that level of extreme confidence in a player.
"Mike is also beginning to replicate the close-quarters elusiveness outside his own half. Stuart challenged him to this - to use those abilities in areas that really count, near the try line."
Ashton believes Brown has been liberated by the presence of two young dashers alongside him in the back three. Both Jonny May and Jack Nowell are naturally inclined to counter-attack. "Every time the ball is in there, Mike is thinking 'I'm not on my own here'," says Ashton.
But it is the parallel development in this England team that has also set Brown free. Stuart Lancaster admitted on Friday that his first year and a half in charge was all about instilling discipline and defence - making England hard to beat. Only later came the focus on attacking threat which has allowed the liberation of the creative talents.
"Mike's ability to beat the first defender has always set him apart," says Lancaster. "That threat has always been there. The point of difference in the last four games has been his ability to influence attack in the final third.
"We have been working on getting the ball in his hand and using him at first receiver, because if he can be effective 60m out then he should be effective 20m out."
Brown paid tribute on Friday to Lancaster's lieutenants Andy Farrell and Mike Catt, the defence coach for his work on his back-field coverage, the attack coach for assistance with his kicking game.
Farrell in particular appreciates in return another stand-out aspect of his full-back's character, the on-field aggression that has the ordinarily mild-mannered Brown known by his Quins team-mates as 'Mr Angry'.
A fortnight ago it was the garlanded Brian O'Driscoll who found Brown paying him a particularly punchy form of homage. When Wales storm into Twickenham on Sunday, any red shirt that comes at Brown is likely to receive the same fierce welcome.
"It's Jekyll and Hyde," says Easter. "Off the pitch he's really quiet - not shy, but not the most gregarious in the squad. But on the pitch he's as feisty and angry as anyone out there. To have a guy at the back like that is what every forward doing the dirty hard stuff wants to see."
Ashton agrees. "That confrontational mindset is what every coach wants to see in every player. You want a man who will never take a backward step, who believes he is best on the pitch in his position.
"Sometimes in the past he was guilty of going over the top. But he has matured now, and grown more confident in his abilities. He has retained the confrontational stuff but now has it under control."
Brown is not yet the complete full-back. Both Dagg and Folau have raw pace that he cannot match. Halfpenny has performed with consistent excellence for far longer than his opposite number this weekend.
But neither is the evolution over.
"Mike just needs to keep believing in himself," says Ashton. "Hopefully the England mindset remains 'If the opposition give us ball, we will hurt them'. Then Mike will flourish. Not only will he beat two men, he will find the off-load. He will open up space elsewhere."
Wells agrees. "He's not the finished article by a long way," she says. "He can get quicker. The fast feet - they are coming. But I'm just so pleased with the results he's getting because he works so hard."