Six Nations 2014: Gethin Jenkins treatment worries Robin McBryde
Last updated on .From the section Welsh Rugby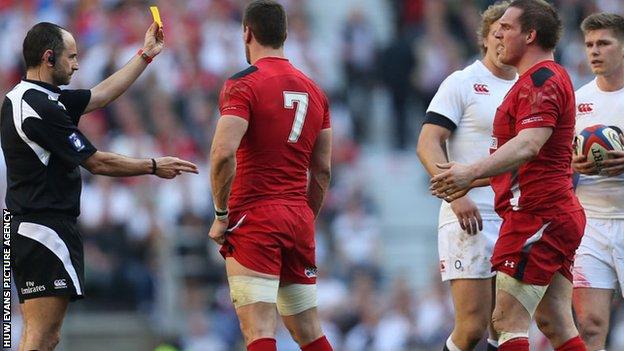 Wales forwards coach Robin McBryde fears loose-head prop Gethin Jenkins' scrummaging is being singled out for punishment by referees.
Jenkins, 33, has been sin-binned for scrum offences in consecutive games against France and England.
"My concern is there's a preconception out there - a perceived idea with Gethin," said former hooker McBryde.
"I am concerned that we have obviously fallen the wrong side of [match referee against England] Romain Poite."
McBryde confirmed he would be writing to Poite and International Rugby Board (IRB) referees' chief Joel Jutge for "clarity" over the scrums.
Jenkins equalled former fly-half Stephen Jones' record of 104 Wales caps against England in the Six Nations championship on Sunday.
The loose-head was repeatedly penalised by Poite for not driving straight at scrums before eventually being shown a yellow card in the 53rd minute.
Jenkins decided not to return to the action after his 10-minute suspension ended because he felt he was being singled out, with Paul James replacing him.
McBryde was surprised that Wales were penalised at the scrums because he felt they had the upper hand at the set-piece.
"The unfortunate thing is that one man has been singled out," said McBryde.
"And everyone could see the dejection on Gethin's face when he came off, he didn't know what else he could have done.
"He's vastly experienced, he's been there with the British and Irish Lions, he's been there with the Wales.
"Certain players are highlighted and their name has been bandied about with regards to what referees should be looking at.
"I don't necessarily agree with that because each scrum is different.
"You can't go into a game with a preconceived idea and I hope that wasn't the case on Sunday."
However, McBryde felt some of the blame lay with Wales for failing to adapt to Frenchman Poite's interpretation of the scrums.
"It's very hard for the referee so I'm not going to be too critical of him," said the former Scarlets hooker.
"We were quite dominant on a couple of scrums and I felt we should have benefited from the decision, yet the decisions went against us.
"The most important thing from my point of view is that we get that clarity, because if we don't get that it just ends up in a guessing game."