Six Nations 2014: Mike Ross ready for Paris front-row battle
Last updated on .From the section Irish Rugby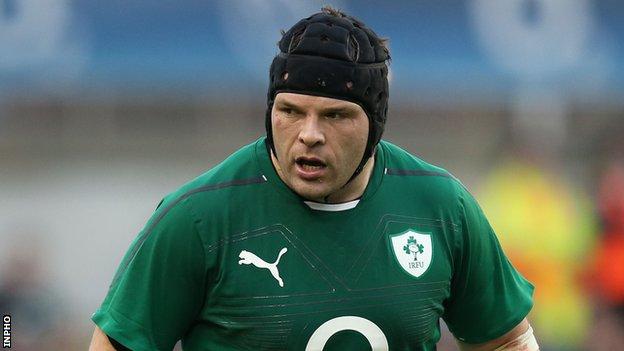 Mike Ross hopes Ireland's punishing series of scrum sessions will pay more dividends in Saturday's crunch Six Nations game against France in Paris.
The Irish scrum has been an effective weapon so far in the championship whereas the France front row has come in for widespread criticism.
"Our scrum's been going quite well so far," said Leinster prop Ross, 34.
"We've got to make sure it continues on that upward curve. It's something we've worked extremely hard on."
Ireland appeared to have capitalised on the new scrum engagement sequence, the shorter hit benefiting their compact but powerful front-row.
Ross said: "There's a lot of pressure: the new laws have changed it from being hit with a sledge to being squeezed in a vice.
"So out goes the sledge and in comes the vice, so it's a different type of pressure.
"With the squad we have, we've got Marty Moore and Jack McGrath pushing myself and Cian Healy hard every week.
"So you know if you're even a fraction off, they'll have you."
Ross' Gallic counterpart Nicolas Mas stormed out of a news conference on Tuesday, bemoaning questions on France's inability to adapt to the revised scrummaging laws.
However, Ross insists that he is expecting a fierce front-row battle in the Stade de France.
"I know Thomas Domingo quite well having played against him so many times over the years," he said.
"He's a good lad and I'll probably have a beer with him afterwards, but when he's on the pitch he'll try to get into you.
"He's short, squat, he'll try to get under you and take you up, and on the far side then you've got Nicolas Mas who's a fairly well-capped veteran at this stage and I think he's been playing quite well, having watched a bit of him.
"Their scrum has been mixed. Sometimes they'll absolutely murder teams, others they get disrupted.
"We'll be working hard on that ourselves, trying to make sure any ball they do get is as unpleasant as possible for their scrum-half."
With England facing Italy in Rome earlier on Saturday, the Irish will know exactly what they have to do to win their first championship in five seasons.
If England are unable to win by more than 50 points, a victory of any margin in Paris will be sufficient to secure the title for Joe Schmidt's side.
Brian O'Driscoll's hat-trick of tries helped Ireland earn their last Paris win back in 2000.
The Irish have drawn with France in both their last two meetings and Ross believes they can go one better this weekend.
"We're aware of the record but it's not an issue or a problem," he said. "This is an opportunity to make history for us."