Brian O'Driscoll: 'More great games than any other player'

By Tom Fordyce
Chief sports writer
Last updated on .From the section Rugby Union279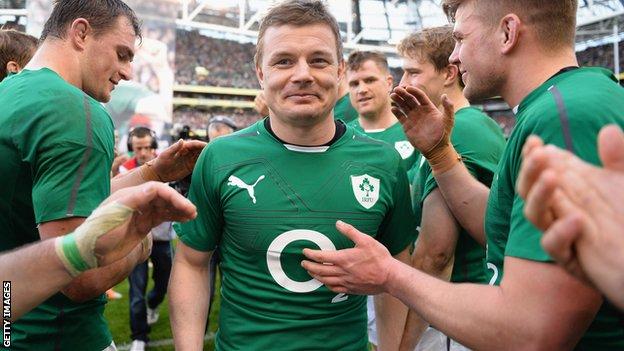 And so the career of Brian O'Driscoll comes full circle. On Saturday evening he will bow out of international rugby on the same corner of a foreign field where he first alerted the world of what was to follow. It started in Paris, and it will end in Paris.
There have been plenty of miracles in those 14 years - magic passes spun from those conjuror's fingers; side-stepping, slashing bursts through bewildered opponents; impossible off-loads to jemmy open locked defences and steal a game away.
To wonder at the mere longevity of it all seems a little humdrum. But that was always O'Driscoll's skill, to make the unlikely seem straightforward.
Back on that sunny spring afternoon in 2000, his hat-trick of tries brought Ireland their first win on French soil in the lifetime of most of their players. "The change from Five Nations to Six Nations needed something special to happen, and that thing was Brian O'Driscoll in Paris," says his captain that day, Keith Wood.
In the seasons that have followed, that rosy-cheeked kid in the baggy green shirt came to define the tournament. More Six Nations games than anyone else, more minutes played; most tries, most games as captain. No-one could lay a hand on him at the Stade de France that afternoon. No-one has been able to touch him since.
"The game has changed a huge amount in that time, and it's very hard for a player to adapt his own game so he stays relevant," says Denis Hickie, the man who played outside O'Driscoll on the left wing for both Leinster and Ireland for many years and whose Irish try-scoring record the coming kid chewed up.
"The impact a player can have in open field has changed so much. But Brian has changed himself to suit that. His game has evolved to reflect the fact that the organisation of defences has got so much better and the space has got so much less.
"The outside break might have gone. But he replaced those skills with others that are equally relevant, if not as spectacular.
"You hear people say, he's not the player he was. Well, of course he's not. But he has carved out a different niche as the years have gone by. It started with him very much leading the attack, and he's shifted to being a pivot player instead."
Sporting history is rich in burned-out meteors, the young men blessed with destructive pace who were never able to compensate once the inherited gifts began to fade.
O'Driscoll's first two and half seasons of international rugby brought 14 tries. The last season and a half have produced just one. Like a flat-out fast bowler developing reverse-swing as he becomes fast-medium and a leg-cutter as he drops to medium-fast, O'Driscoll spotted the end of that beginning and worked on the weapons that could counteract the inevitable natural decline.
Brian O'Driscoll's Six Nations record

Games

64

Overtook Ronan O'Gara's 63 v Italy

Tries

26

Shane Williams second with 22

Carries

492

Most by a back; Sergio Parisse top with 516

Metres made

2512

Chris Paterson second with 2393

Clean breaks

66

Shane Williams second with 50

Defenders beaten

161

Jason Robinson second with 85

Offloads

82

Nathan Hines second with 54

Try assists (final pass or kick)

16

Jonny Wilkinson & Ronan O'Gara top (17)

Tackles

451

Martyn Williams top with 467

Tackle %

88%

Thierry Dusautoir & Dan Lydiate 98% (100+)

Turnovers Won

53

Malcolm O'Kelly second with 32

Stats: Opta. @OptaJonny
Forget the mountains of metres made and defenders beaten for a moment. He has produced 21 more turnovers than any other player - forward or back - in Six Nations history. Perhaps only Ryan Giggs of his sporting contemporaries has evolved with age to similar extent, and Giggs was never pummelled like O'Driscoll has been pummelled.
"He is not a huge man, and he gets knocked around a lot," says Wood. "Each big tournament, whether it is a Six Nations, a Lions tour, or a World Cup, is great, but they all take something out of you physically."
There have been several points where O'Driscoll could have stepped away - after the Grand Slam triumph of 2009, or Ireland's early exit at the last World Cup, or the injury that ruled him out of the 2012 Six Nations.
No-one would have complained if he had. Other men who have soaked up similar years of on-field exhaustion have gone long before their 35th birthdays, sated by their triumphs as much as spent by the efforts exuded winning them.
"It's remarkable, but Brian has maintained the desire to get better at his game, to work harder at his fitness," says Hickie.
"He doesn't take the things he's good at for granted. It's probably one of the core reasons for his longevity, because he understands what it is to work hard. He understands what it takes to be successful. He has kept the same drive to win that he had at the very beginning.
"His consistency is extraordinary. When England came to Dublin looking for the Grand Slam in 2011, a huge game, he was man of the match, 11 years after being man of the match in Paris.
"There are very few players who could do that. They were different types of performances in a sport that had changed considerably, but he still had the same impact on the game."
O'Driscoll had made his Ireland debut in Australia nine months before travelling to France. He had scored his first try against the USA in the 1999 World Cup and added his second and third at Lansdowne Road against Scotland and Italy.
Aficionados were already purring. Paris convinced the wider rugby world. Those who had trained alongside him were already converted, true believers in BOD as so many others would come to be.
"When you're playing with a guy like Brian, it's the little things you see along the way: the daily practise of excellence; the application in training; the relentless drive to improve," says Hickie.
"I've seen so many games, the less glamorous ones, when he would always be at the level where you could rely on him to have a fantastic game. It didn't matter who you were playing. The application and work, let alone the magic moments, were always there.
"Then, when the game is really big, when the pressure was really on, backs to the wall, he has risen to it. The bigger the occasion, the bigger the performance.
"He has put in a higher percentage of great performances in the big matches than any other player. Really good, experienced internationals will produce their absolute best in the huge games maybe 70-80% of the time. For Brian you're talking about 90%.

"His team-mates knew that, and they understood it, because it was something they saw every single day, week in week out. That was the type of leadership he brought."
It is why Ronan O'Gara describes him as the finest player in Irish history, what Jamie Heaslip meant when he said, "These kind of characters only come around every so often. When my generation watched rugby it was Jonah Lomu. For an entire generation, Brian is Jonah Lomu."
"He's spread confidence across the whole set-up," says current Ireland captain Paul O'Connell. "You see what guys have become under him. They've realised this is how you need to play the game; you need to be the complete player."
Ireland developed a culture around O'Driscoll's excellence and teams around his consistency. With the ball he was lethal. Without it he could be equally deadly, tackling like a second row, ripping away ball like an open-side.
In a sport where space was being squeezed, he seemed to both be operating in fast-forward and have all the time in the world. He could pass behind his back, pass through his legs, even pass the ball to himself on that famous occasion against Ulster in 2007 when Hickie found himself gladly lobbed.
Brian O'Driscoll's overall Test record

Appearances

Tries/DGs/Points

Record

Win %

All Tests

140

47 / 5 (250 pts)

W81 D2 L57

58%

Ireland

132

46 / 5 (245 pts)

W79 D2 L51

60%

Lions

8

1 (5 pts)

W2 D0 L6

25%
He could score from 60 metres, as in the first Lions Test of 2001, and he could score from an inch, as he did in the Grand Slam decider in Cardiff.
"He was so easy to play with," says Hickie fondly. "Sometimes a winger on the outside can see space that the centre inside him can't. You see gaps, you see things happening, but you often can't communicate it to those inside, and the opportunity can be gone. But anything I saw, Brian would have seen."
We can all quote our favourite from the life of Brian. For Hickie, the moment came for Leinster against Bourgoin in December 2004. Four minutes to go, Bourgoin leading 23-19, Leinster on the point of slipping from the Heineken Cup once again.
"We had to win the game, not just to progress but to show we were capable of winning in France, of wining these crunch matches," he remembers.
"We had a move called that involved an outside break and then feeding the full-back. And he over-rode it, cut back inside and scored the try that won the match.
"That was the sort of leadership he brought. It's not all about giving the team a big talk. It's about having the bravery, skill and ability to see a chance, go for it, and pull it off.
"He could easily have gone through with what we had planned, given the ball and that would have been that. No-one would have complained if he had gone safety first. Most wouldn't even have noticed. And there were so many examples like that - Brian stepping up and saying, 'give me the ball, I'll make this happen'.
"It can be hard for people to articulate what it is that Brian has. Well, many players are influential. But there are very few who have done it as consistently as he has, and who, the more the pressure there is, the more they manage to do it. There are players who've excelled as youngsters, high achievers who have won great things. But there is still another step up to Brian."
Wood will be there again on Saturday, along with thousands of other Irishmen, to see if O'Driscoll can sign off in style with another Six Nations title.
His memories of the third try in that hat-trick 14 years ago are still laced with wonder. "It was almost like Ali-Frazier when Ali didn't deliver the final punch because he didn't want to break the aesthetic of the fall; Frenchmen got close to him but they never really made a tackle, he just coasted under the posts."
Sport seldom has room for sentimental endings. France may yet splutter into life and spoil the party.
This time too there can be no swerving the final punch. The constant king since Five became Six will be gone.