Six Nations 2014: Will Ireland, England or France prevail?

By Jeremy Guscott & Jonathan Davies & Andy Nicol
Rugby union analysts, BBC Sport
Last updated on .From the section Rugby Union566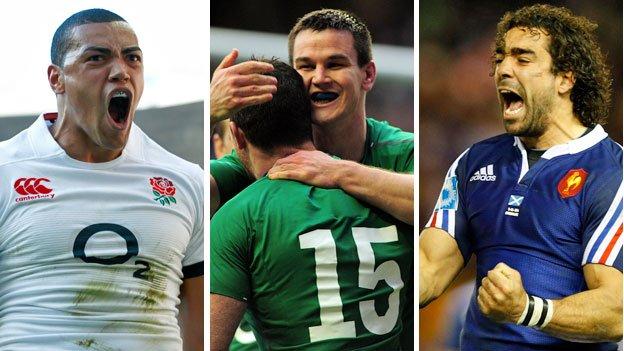 The 15th Six Nations will reach a fitting climax in Paris on Saturday with the Championship decided, one way or another, when France face Ireland in the final game of the tournament.
Ahead of that enticing conclusion at the Stade de France, England - still harbouring hopes of clinching a first title since 2011 - tackle Italy in Rome, before Wales meet Scotland in Cardiff.
The BBC Sport website will kick off eight hours of coverage at 1130 GMT on Saturday, and you can follow this feast of Six Nations action on BBC One, BBC One HD, Radio 5 live and Sports Extra, and online on the BBC Sport app and selected Connected TVs.
Allow former England centre Jeremy Guscott, ex-Wales fly-half Jonathan Davies and former Scotland scrum-half Andy Nicol, who will all be part of the BBC's coverage, to guide you through how 'Super Saturday' might unfold.
Antipasto in Rome - Italy v England - 1230 GMT KO
England have never lost to Italy in 19 previous meetings, and won their first three Six Nations games in Rome by an average of 41 points. However, their last three visits have brought winning margins of four, five and four points.
A 50-60 point England victory would heap huge pressure on Ireland, but any sort of win should still be enough to secure the title if France win in Paris.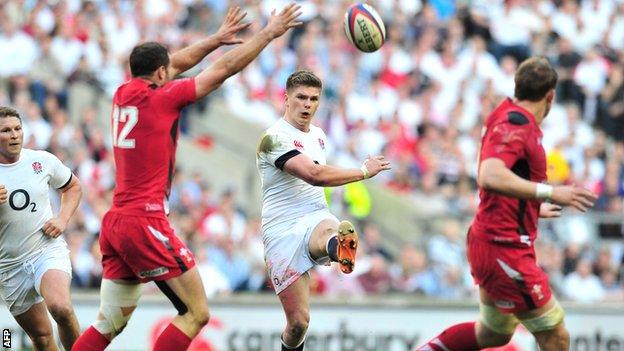 Jeremy Guscott: It is very easy to say, 'Right lads, we need to win by 50 points, let's go out and score some tries'. But realistically you can only do what you have trained to do.
You analyse the opposition to the nth degree, you know what their defensive structures are, but for the first 30-40 minutes you know they are going to be incredibly fit and enthusiastic and fighting hard.
It is not until the second half - as Ireland found last week - that you are likely to be able to score a lot of points against a side that are perceived to be weaker than you.
England have been very solid and consistent. They have scored two or three tries in most games and are a very different attacking team to this time last season. Confidence is high.
The only problem I can see is if they go out and try to score 50 points from the first minute. That would be a different game plan with a different structure to what they have had all season. The danger is, if their accuracy is not as good as it needs to be, they could let Italy in.
Change is a hard thing to adapt to, as we saw when Wales kicked a lot against England, as Ireland did too.
England have been forced to make a late change in their front row with Mako Vunipola replacing Joe Marler, but Vunipola would have been very close to starting these games anyway after his performances on the Lions tour.
Some have raised concerns about his scrummaging but I think he will relish the opportunity.
England know Italy have a great line-out and their scrummage is very strong, so England will have their work cut out to tire Italy quickly there. My suggestion would be not to kick to touch; instead get the Italians out of their comfort zone and strangle them with contestable high kicks, look to kick their own penalties to touch and pressure them with driving mauls.
We saw how quickly Italy tired in Dublin, but they are playing in Rome, they have got their captain Sergio Parisse back and they won't want to be walloped by 50 points at home. They will be confident of trying to beat England. They won't fear them because their set-piece is so strong. But if England can stick to what they have been doing well and tire the Italians out, the tries will come.
I think England will win but I would say conservatively by about 20 points. It would be a magnificent performance to beat Italy by more than 30 points in Rome. That would be a great achievement and nothing is unobtainable, but they are really shooting for the stars if they go out thinking "we are going to win by 60 points".
There shouldn't be any disappointment if they don't. Losing the game would be a huge setback, no question, and winning it with a poor performance would be disappointing. Because of what they have achieved already and the way they have played, I would be happy with another consistent performance and a good win.
Celtic cold cuts in Cardiff - Wales v Scotland - 1445 GMT
Scotland have lost 10 of their last 11 Tests against Wales and have not won in Cardiff since 2002. A victory would be the first time in 11 years they have won two games in successive Six Nations seasons. If Wales lose, it will be their worst season since 2010, when they last lost three games.
Jonathan Davies: "It should be a really interesting game and a good one to watch, as this fixture traditionally has been over the years.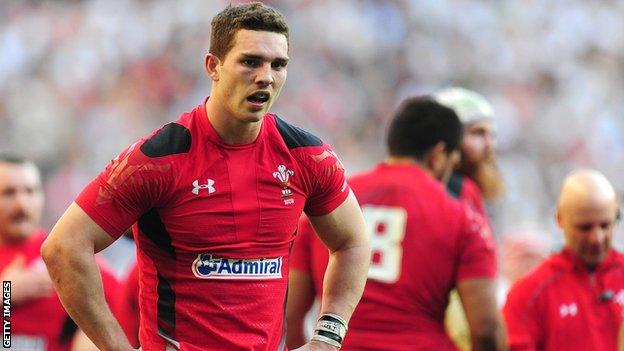 Wales have got to bounce back from their Twickenham defeat and have freshened things up a bit, giving players such as prop Rhodri Jones and hooker Ken Owens a run. The inclusion of Dan Biggar will give them direction at 10 and Wales just have to execute their game better.
Whether they change tactically we will have to wait and see, but mentally I think they will be up for it. They were disappointed with the performance against England and they have to win to get their confidence back before they go to South Africa in the summer.
Scotland need a result, too. They played well against France and should have won. They have got the set-pieces right, the forwards are carrying well, and they have started to take their try-scoring opportunities in recent games, which they haven't done in recent years. The backs are looking far more dangerous now; they just need a bit of game management at nine and 10.
Andy Nicol: After a rollercoaster of a Six Nations, Scotland travel to Cardiff with nothing to lose and that will make them dangerous opponents for Wales. Since the horrible performance against England, Scotland have played some pretty good rugby, scoring two good tries against both Italy and France, and they only lost to France because of an interception try.
With the forwards finding their game at scrum and line-out in the last two games, that has given the backs a platform, with centres Matt Scott and Alex Dunbar combining very well in both attack and defence, but their progress will be tested against Jamie Roberts and Jon Davies.
Scotland will have seen how England and Ireland beat Wales; by matching their physicality and pressurising their game. Scotland might not be at the same level as England and Ireland but they do have players that can be physical and they will fancy their chances.
Both teams will want to finish the championship on a high. It promises to be a cracking match.
The main course in Paris - France v Ireland - 1700 GMT KO
Unless England have racked up a 50-plus point victory in Rome, Ireland will take the field knowing a victory will give them only their second Six Nations title in the 15 years since the tournament expanded to include Italy.
It would be their third Championship in the last 30 years, a 12th outright title since the tournament started in 1883 and a 19th overall, including shared titles. If England fail to beat Italy, or win by a narrow margin, France could also take the title with a convincing victory.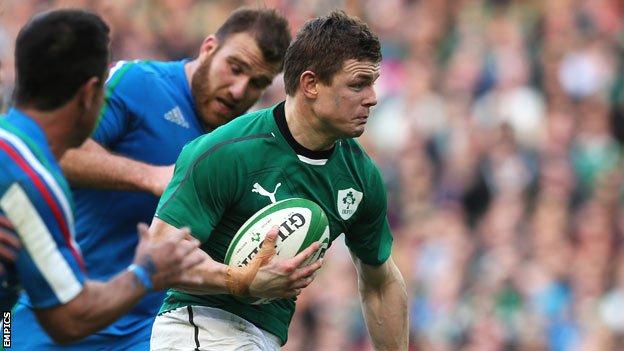 Jeremy Guscott: The Irish people I have spoken to this week are very nervous because of their record in Paris. The last time they won there was 14 years ago, and before that a lot longer (1972), but I fancy Ireland to do it.
They have been consistently good through the Championship, the forwards and backs are both firing, and they have the quality and experience to finish the job.
The top teams have performed pretty well at home in this Six Nations, but France have won their previous games in Paris against England and Italy with average performances. I saw their first three encounters first-hand and am still at a loss to see the purpose or structure in what they are doing.
I have not seen anything that should overly worry Ireland, other than the fact that five of France's seven tries have been scored from their own half. That tells you they are pretty good at counter-attacking, and their back three of Brice Dulin, Yoann Huget and Maxime Medard are extremely dangerous with anything loose.
It will be interesting to see 19-year-old Gael Fickou get a start at centre too. This a young kid we want to see more of. He has the size, physicality and athleticism to really shine. I am really looking forward to watching him and I hope he gets a decent run in the side because France have not been using their three-quarters in any way that is inclusive. They have just been asked to kick and chase and follow the forwards, apart from the odd attack from their own half.
They have brought Remi Tales in at 10 and he is older and more mature than Jules Plisson. He will not be fazed by the occasion and has been around long enough to cope with the pressure.
Of course, all the focus with Ireland will be on Brian O'Driscoll in his final Test and I am glad I will be there to see it. I would expect Ireland to win by six to nine points and win the Championship. Paris should be a great place to be on Saturday night.
Guscott's verdict: Ireland will win by six to nine points and take the title.