Six Nations 2014: Brian O'Driscoll, Ireland legend, in his own words
Last updated on .From the section Irish Rugby
Time is almost called on the career of Brian O'Driscoll. On the eve of his last match for Ireland he sits down with fellow Irish legend and former captain Keith Wood to discuss his rugby past, present and future.
In a wide-ranging interview, the incomparable centre discusses Parisian finales, going out on a high, the challenges of captaincy and the battle to keep his weight down in retirement.
The long goodbye
On Saturday, an emotional Brian O'Driscoll thanked his fans for an "absolutely incredible" reception as he played his last ever international game on Irish soil. The 35-year-old was named man of the match as Ireland thrashed Italy 46-7 in Dublin's Aviva Stadium.
"I had a great day in Dublin," said O'Driscoll. "You're always nervous, because certain things had to be organised for it - you just want to concentrate on the game of rugby and play as best you can.
"Thankfully I got to spend time out on the pitch with my little girl. And the boys gave me a tunnel off the pitch, and the Italian guys stayed around.
"I couldn't have asked for a better day and for a better final home game - it was very special."
Tears in Paris?
Attention now turns to Paris, the Stade de France and a French team who have suffered a stuttering Six Nations campaign but are the only side standing between O'Driscoll and Ireland claiming the 2014 championship crown.
"There a lots of 'lasts' this weekend against France in Paris, and that's starting to hit home," admitted O'Driscoll. "Last week in Dublin was different, because I still had a week to go.
"There will be a little bit more emotion in France, but hopefully I can project it in the most positive of ways into my performance.
"I'm sure there will be tears, but whether you see them or not... we'll have to wait and see!"

Leave them wanting more
O'Driscoll is adored in Ireland, for whom he has scored 246 points, touched down 46 tries and played 132 times. He had mooted retirement several times in recent years but Saturday's showdown will be his last in a green Ireland shirt.
"One of the nicest things with people chanting 'one more year' last week was I wanted to leave a small bit behind, feeling I had the capability of one more," he said.
"But I know. I'm the one that wakes up every day aching. It takes me 15 minutes to get going, and I think I'd just be taking liberties by trying to go another year.
"I've got my head fixed on the next part of life. I know there will be an adjusting period of just not being a rugby player for a while, and over that period I'll get my head around what the next challenge involves."
Brian O'Driscoll's Six Nations record

Games

64

Overtook Ronan O'Gara's 63 v Italy

Tries

26

Shane Williams second with 22

Carries

492

Most by a back; Sergio Parisse top with 516

Metres made

2512

Chris Paterson second with 2393

Clean breaks

66

Shane Williams second with 50

Defenders beaten

161

Jason Robinson second with 85

Offloads

82

Nathan Hines second with 54

Try assists (final pass or kick)

16

Jonny Wilkinson & Ronan O'Gara top (17)

Tackles

451

Martyn Williams top with 467

Tackle %

88%

Thierry Dusautoir & Dan Lydiate 98% (100+)

Turnovers Won

53

Malcolm O'Kelly second with 32

Stats: Opta. @OptaJonny
The finest achievement
In 2009, Ireland ran rampant in the Six Nations, conquering all before them and lifting the Grand Slam for the first time in 61 years. For O'Driscoll, such an influential number 13 in that tournament, it was one of the crowning achievements of a long and illustrious career.
"It was such a huge relief in 2009 because we were a team that had multiple second places - five or six of them. We were nearly-men until that year, and to finally come good was such a relief.
"You realise the importance of it, because since then we've done next to nothing in the Six Nations and this year, 2014, is my last chance to try and win another medal.
"We lacked consistency in the Six Nations, that was our big issue. We had some huge performances, one-offs, and it was just backing that up time and time again.
"The great teams are capable of winning when they're below-par and we didn't really have that ability - when you're not perfect you still have to deliver to get across the line."
What rugby did for me
As a child, O'Driscoll chose to make the switch from Gaelic football to rugby, and represented his country at schoolboy, under-19s and under-21s level before his full debut. Reflecting back on such a stellar career, what does he have to thank the sport for?
"Rugby gave me a confidence," O'Driscoll says. "I was quite shy and relatively timid, but it gave me the confidence to be a little bit more out-going and back myself a bit more.
"I'd like people to think I was a committed, honest player that played for the team.
"The great thing about playing team sport is you win and lose together, and the pain is never as bad when you share it."
The art of captaincy
A one-club man, O'Driscoll first assumed captaincy duties at Leinster in 2005. But two years earlier, following the retirement of long-time captain Keith Wood, O'Driscoll was given the armband for his country. What followed a year later? A Triple Crown, a first for Ireland in almost 20 years.
"It didn't sit comfortably early on," O'Driscoll admits. "I was 23 years of age and still trying to become a more senior player in the team. I was a regular starter but, in your head, age has a place.
"I found it daunting; it was hard, the speaking part didn't come naturally to me early on. I found myself getting quite stressed going into team meetings, trying to make sure I was coming up with new material and making sure it wasn't just the same stuff being regurgitated.
"The on-field stuff felt way more natural, because it was raw emotion and I was able to talk better.
"My captaincy evolved and was very different last year to 2002. I think experience does count a huge amount."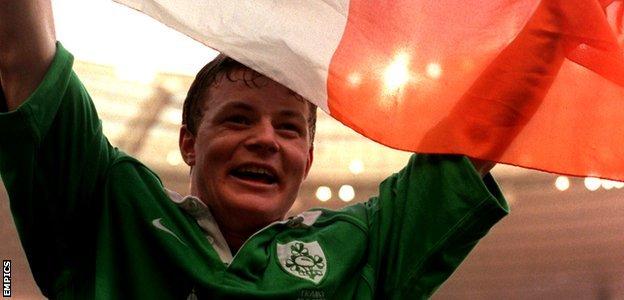 Better than all the rest?
The best Irish player of all time? The best centre of all time? Accolades and applause abound, but O'Driscoll points to some of his peers...
"I had massive admiration for lots of players. Richard Hill would be up there, along with Martin Johnson," says O'Driscoll.
"In the southern hemisphere, the best opponent would have been Tim Horan - he was class. And more recently the likes of Richie McCaw, who is quite the freak. Being capped 125-odd times at seven for a country like New Zealand is quite exceptional."
Brian O'Driscoll's overall Test record

Appearances

Tries/DGs/Points

Record

Win %

All Tests

140

47 / 5 (250 pts)

W81 D2 L57

58%

Ireland

132

46 / 5 (245 pts)

W79 D2 L51

60%

Lions

8

1 (5 pts)

W2 D0 L6

25%
Irish rugby without an O'Driscoll
Hard to imagine, isn't it? No more the hunched centre in the emerald green, his blue eyes sparkling and an impish grin lighting up his features. And magic rugby being woven by his hands. Will we ever see his like again?
"We've got lots of great potential coming through and the future looks bright," he insists. "Ireland are in good hands under coach Joe Schmidt.
"We've got the depth of squad where guys can replace others seamlessly and competition for places is a lot hotter, different than when I came in in 1999. Standards are really being driven to, hopefully, a new level."
A weighty challenge ahead
Over 14 years of international rugby, O'Driscoll has suffered many breaks and bruises. He famously dislocated his shoulder on the 2005 Lions tour, the most serious and debilitating of his injuries, but admits that battling his weight will pose his greatest challenge post-rugby.
"There's a fat man in here for sure," O'Driscoll jokes. "When I realised I had to start looking after my diet way more than I used to in the past, it really triggered with me.
"It will be weighing scales at home now I'm not a player. I'll know what weight I have to be and I'll have to do a certain amount of exercise to keep at that weight - once I'm there I'll be relatively happy.
"I can't see myself killing it on a treadmill, but I've got myself a nice bike and all the gear so maybe out on the roads."