Huw Llywelyn Davies ends international commentary
Last updated on .From the section Rugby Union8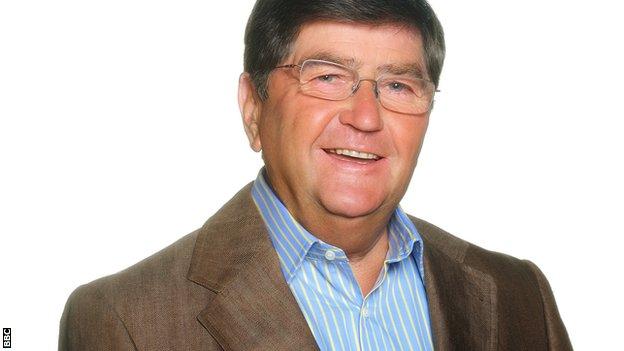 Rugby commentator Huw Llywelyn Davies covers his final international rugby match for S4C as Wales play Scotland on Saturday.
He has been commentating for 32 years, with his first TV game the 1983 13-13 draw between Wales and England.
Although this is his last international, the 69-year-old will continue with Pro12 games this season.
"I'm grateful to my colleagues and to the audience for the superb support over the years," he said.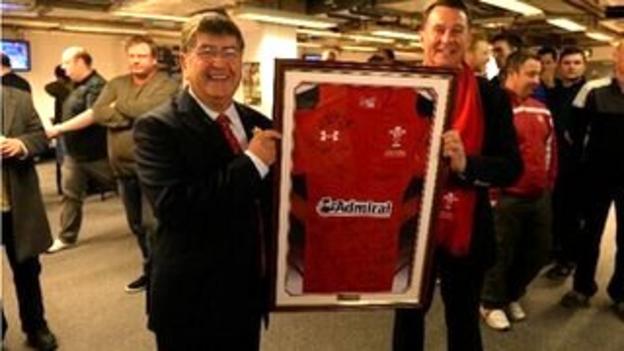 "There have been ups and downs on the rugby field, but charting them has meant something very special to me."
Davies started as a teacher at Llandovery College, joining broadcasters HTV in 1974 before moving to the BBC in 1979.
His first international commentary was in 1979 for Radio Cymru and then on the newly-established television channel S4C in February 1983 in the then Five Nations Championship, and the Wales-England match.
"It was (former Wales and Llanelli centre and broadcaster) Ray Gravell and myself," Davies recalled.
"I remember that the stadium was being redeveloped at the time so it was only half opened - we were the other side of the field so the stand had been demolished.
Davies, recognised by fans and colleagues as a font of rugby knowledge, credits his father Eic Davies for bringing Welsh language rugby commentary to the radio - something he thought about during his first assignment abroad for S4C.
"I went to New Zealand in 1983 and I just had to pinch myself that I was going there to do Welsh language broadcasting on a Lions tour," Davies said.
"The way things had developed - my father had been involved in the early days of when they were coining new phrases for the game of rugby.
"He was a schoolteacher in Cardiff and they were trying to get young kids to take Welsh as a subject... they'd take them out in Llandaff fields if they wanted to play a bit of rugby, they'd coach them and this sort of thing.
"Then they thought: 'Well, if the idea is to get these boys to take Welsh, we'd better get some Welsh words for this.' So that's how it started.
"I thought: 'My goodness. How it's developed from there to me being on a major Lions tour.'"
Davies says there is something extra special about Saturday's game being his final international fixture.
"Bill (McLaren) finished with the exact same fixture 12 years ago - it was Wales v Scotland in 2002 in Cardiff.
"Bill always said that the team that excited him most in his commentary was the Welsh side of the '70s. So he wanted to be commentating on Wales in the final game.
"He decided that would be his final game. It was the last time that Scotland won in Cardiff - 12 years ago."
Davies will continue to cover the Pro12 tournament until the end of the season and will lend his voice to BBC Cymru productions in the future.