Six Nations 2014: 'Back to square one' for Scotland

By Andy Burke
BBC Scotland at the Millennium Stadium, Cardiff
Last updated on .From the section Rugby Union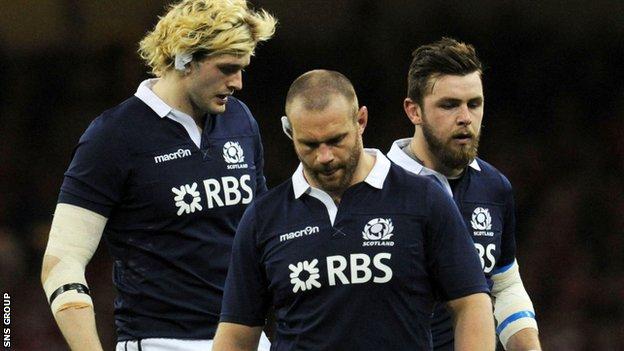 A Millennium mauling from a rampant Wales was not the ending Scott Johnson had in mind as he prepared for his last match as head coach.
Scotland struggled to stem the Welsh tide after the dismissal of Stuart Hogg in the first-half. That they managed to repel the red onslaught for 20 second-half minutes with 14 men is to their credit, but that won't be remembered when minds wander back to this match in years to come.
What will be remembered is that Scotland shipped 51 points - a record defeat to Wales, a record defeat in the Six Nations and the third heaviest defeat in the history of the Scottish national side.
The Scots, as always, brought a healthy support to Cardiff, so what did the fans make of their team's showing?
"The sending off killed it," said William Cormack of Macmerry, East Lothian.
"It wasn't a sending off, it wasn't deliberate. They did the best they could. It (victory) was never going to happen after they went down to 14 men.
"I thought they were starting to build up, starting to get a team together, and today has just knocked it back. Back to square one now."
John Hempson of Edinburgh was also left feeling short-changed, but says there is hope that Scotland can turn things around.
"It's unfortunate to travel 400 miles for a poor decision early on to ruin the game, but well done to Wales," he said.
"Scotland showed a lot more passion than they did against England. They're my team and I'm proud of them.
"It was only a year ago we did well against South Africa, so I think things aren't that bad for Scotland."
Keith Bartlett and son David travelled from Edinburgh to see their side ship seven tries in a record defeat, but Keith thinks last month's loss to England was a lower point for Scotland under Scott Johnson. The manner of that defeat sparked a debate on whether Scotland still deserved a place in the Six Nations.
"The England game was the biggest disappointment for us," said Keith.
"I don't think we took part and England walked all over us."
"I don't think our place in the Six Nations is in question, but our status in world rugby is. We can still turn people over on our day."
David agrees that the notion of Scotland being removed from the Six Nations for under-performing is a ludicrous one.
He added: "There were times when Ireland were finishing bottom, there were times in the 1990s when Wales were terrible, but nobody said they should be put out the tournament. We're not doing brilliantly, but last year we finished third.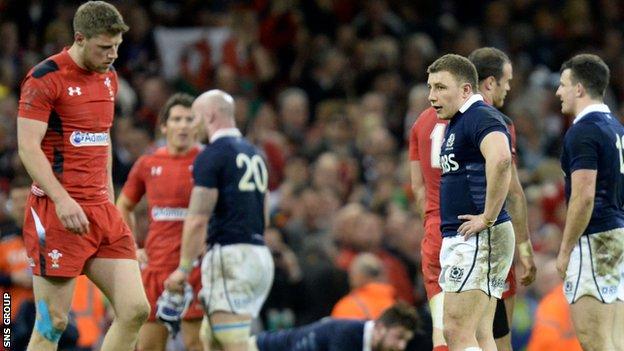 "We really should have beaten France, but we have to be more clinical in taking our opportunities when they come along.
"Other teams are more clinical. If the backline we have just now are given time to play together then maybe it will come good."
Scott Campbell from Paisley was left with an all too familiar feeling when assessing Scotland's Six Nations campaign.
"Frustrating," he sighed. "I think most years we say the same thing. I think we showed some promise. I think we had good performances in some of the games, but again we just don't have the final ball, the killer instinct to finish teams off.
"We have some top class players playing for Scotland, but it's just getting the match-winner, somebody who is going to ignite the rest of the team and give the fans what they want. We are a long way from that just now, but the fans will keep turning up and showing their support."
Hope for Scotland fans will arrive this summer in the form of new head coach Vern Cotter. Over a year will have passed between Cotter agreeing to take the job and actually getting to work, but Scott thinks the Kiwi will prove to be worth the wait.
"I think he'll definitely have a positive impact," he says.
"He's a tried and tested coach. It's young players like Stuart Hogg and Alex Dunbar that are the future of the team. He needs to bring them through and make sure they stand out as the dominant ones.
"The older players that have had their day maybe need to start moving on, and the young guys need to show their class to be successful."
You need a long memory to remember successful Scotland sides, but the fans remain loyal to the core, believing that better days lie ahead, and hoping that the Millennium Massacre is never to be repeated.