Six Nations 2014: Scott Johnson's strange lack of Scotland Plan B

By Tom English
BBC Scotland
Last updated on .From the section Rugby Union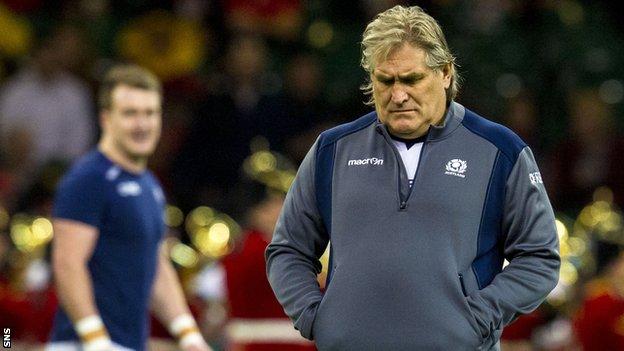 When Scott Johnson was analysing the turbulence of Saturday at the Millennium Stadium, he said he had not planned on one of his players being shown a red card. He had planned for everything else, he told BBC Radio Scotland, but not for an early dismissal.
On the face of it, it was an understandable comment. Who can legislate for such things, right? How could he factor into his pre-match thinking the possibility that one of his men was going to lose the plot so early and so devastatingly, as Stuart Hogg did?
The only problem with Johnson's rationale is that the most rigorous coaching teams always have a battle-plan for worst-case scenarios. The best ones second-guess what might happen in a Test match and have an idea what they are going to do in response.
The Joe Schmidts, the Stuart Lancasters plan with all the forensic detail of a guy launching a rocket instead of merely trying to win a Test match. Nothing is left to chance.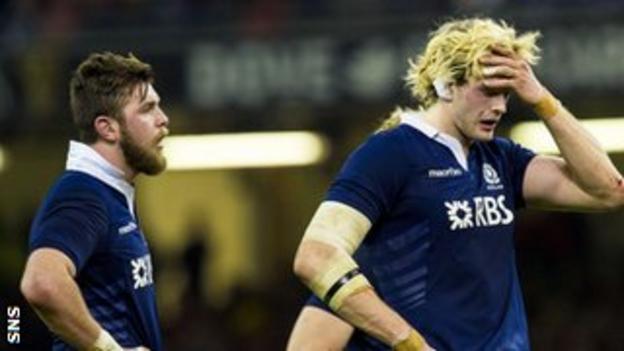 It may not work, of course. Humiliation might still happen regardless. But they know what they are going to do in an attempt to plug the hole that has been left behind.
Scotland, it seems, did not.
It was a little disconcerting to hear a man who is now charged with planning Scotland's entire rugby future admit that there was no strategy in place for the challenges of a red card.
Red cards are hardly unique occurrences in rugby these days. It's not like something freakish happened in Cardiff. It's not like a red card befalling your team is such a revelation. There had already been two red cards in the Six Nations this season, in the game between France and Italy.
Two players were sent-off when France played Tonga in the autumn. A Wallaby was sent-off against Ireland in Dublin, also last autumn. Two more were shown red cards when Georgia played Canada in Tbilisi around the same time.
In the last three years, we have seen a steady stream of high-profile red cards on the rugby field - Bismarck du Plessis for South Africa against New Zealand in the Rugby Championship, Dylan Hartley for Northampton against Leicester in the Premiership final, Sam Warburton for Wales against France in the World Cup semi-final.
Johnson said in his media conference that having your full-back sent-off poses a greater dilemma than, say, having a forward sent-off. You can compensate for a lack of a forward, he said, correctly. It's a lot harder to compensate for the absence of one of your backline, particularly your full-back, who can lie deep and sense danger coming and organise his defence accordingly.
The Scotland coach - or former coach - had an option, which he did not take. If it's easier to cope with the loss of a forward than a back, as he said, then why not, in the wake of Hogg's dismissal, remove a forward and replace him with a back? Why not give yourself a full backline to try and cope with the incredible pace and power and width that Wales possessed in their own backline?
Time and again, Scotland were exposed out-wide. Poor Dougie Fife was told to go to full-back on his debut and sometimes defend two and three Welsh runners all by himself. Fife spent much of his day running around with his hair on fire. No wonder.
Jack Cuthbert knows the full-back position better than Fife. A lot better. You have to wonder why he wasn't brought on when Hogg went off. Cuthbert wasn't used at any stage, which was bizarre.
Wales, a freewheeling team, played all eight substitutes. Scotland, a team blowing hard from a long way out, opted to keep a pair of fresh legs on the bench for 80 minutes.
Strange.
Johnson was plunged into an horrendously difficult situation when Hogg walked. Not only was he down to 14 men but he had already lost his captain, Kelly Brown, to injury.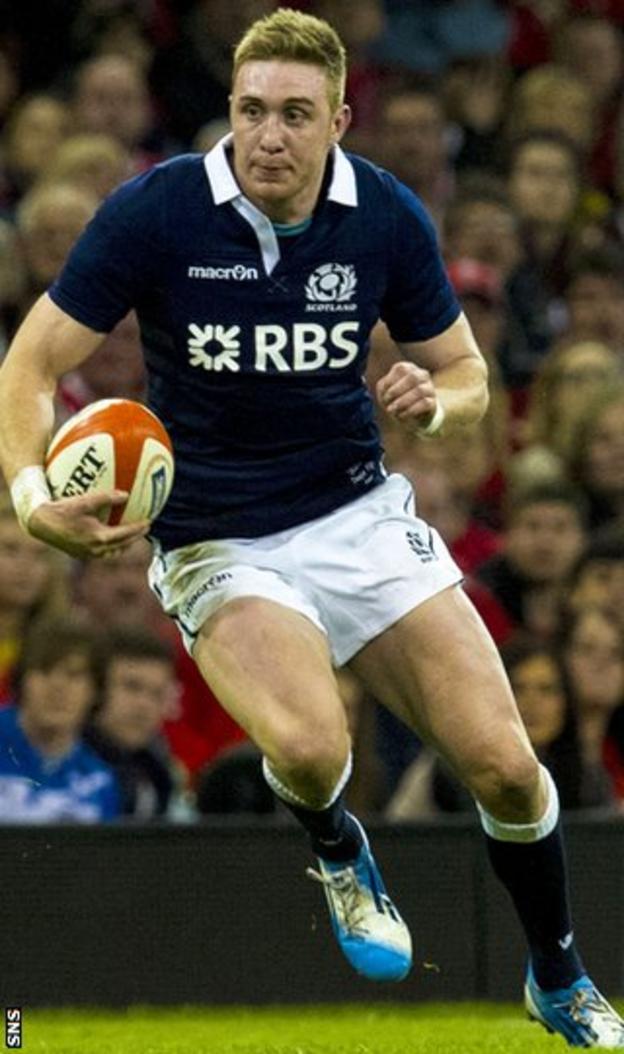 This is every coach's nightmare no matter who the opposition is or where the match might be taking place, but for it to happen against a Welsh team on a mission in front of a Millennium crowd in raptures then the survival job becomes all the more head-wrecking.
Wales shot fish in a barrel after Hogg disappeared. Bringing on a back and sacrificing a forward may not have stemmed the flow of blood, but it would have been worth a try. Better than sitting still and doing nothing.
Wales came within a point of beating France in that World Cup semi-final despite having played most of the game with 14 men. They had a full backline.
Scotland played heroically in Cardiff eight years ago when losing Scott Murray to a red card early in the game. They had a full backline. Maybe these are exceptional examples, but they're real.
Perhaps Wales would have run up a cricket score no matter what Johnson did. Perhaps.
Scotland were impossibly brave, that's indisputable. In the midst of the maelstrom, they went more than 20 minutes without conceding a point and the effort involved in that pocket of resistance was immense. As Johnson said later, nobody can doubt their character.
Under Johnson, the team has gone backwards this season. Fewer victories, fewer competitive performances, fewer tries scored, fewer points scored.
Scotland totalled 47 points across five Test matches - an average of 9.4 points per game. There are issues with the lineout, issues with discipline, issues at half-back, issues in the back-row.
Johnson now moves upstairs as director of rugby while staying downstairs as part of Vern Cotter's coaching ticket. The ubiquitous man of Murrayfield.
So many jobs and so much responsibility. And yet so many questions and such doubt.