Jared Payne 'in frame' to replace Brian O'Driscoll, says Joe Schmidt
Last updated on .From the section Rugby Union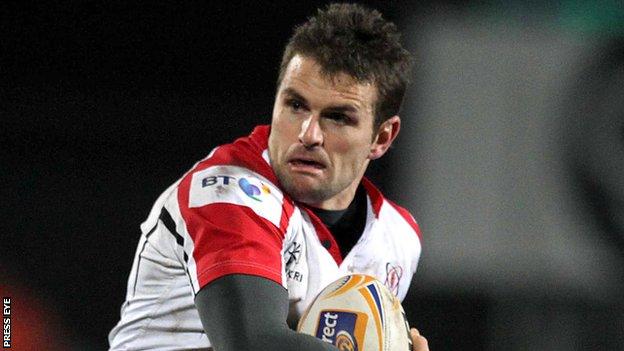 Ireland coach Joe Schmidt says Ulster's utility back Jared Payne will be a contender to wear the number 13 shirt vacated by Brian O'Driscoll.
New Zealand native Payne will be eligible to play for Ireland through residency in November.
Most of his Ulster appearances have been at full-back but recently he has been operating more at outside centre.
"Jared Payne would definitely be one of the guys in the frame - he is a class player," said Schmidt.
The Ireland coach said the 28-year-old would be in immediate international contention come the autumn, and that he would be competing with the likes of Luke Fitzgerald, Fergus McFadden, Robbie Henshaw and Darren Cave in the fight for the position.
Payne had experience as a winger and centre in his early career, but was a recognised number 15 when he joined Ulster from the Auckland Blues in 2011.
"Jared is an experienced player and has a natural intuition on the field," added Schmidt.
"He is a good decision-maker, he tends to be able to avoid the first tackle or beat the first tackle.
"He is a little bit flexible in where he plays on the field, he's played on the edge or at full-back."
Schmidt said he had been working on a successor to O'Driscoll since taking over as Ireland coach last year.
"We have certainly been watching players, and I think both Robbie and Darren have profited from the time they spent working with Brian," added Schmidt.
"One of the real success stories as a group was how much those players brought.
"We would be delighted if Brian stayed reasonably close to the group, because of the character he is as well as the on-field intelligence he brings to the group."
Schmidt, meanwhile, believes that Jonathan Sexton will see out his two-year Racing Metro contract despite speculation that the IRFU could attempt to prise him home after this season.
"If Johnny were to come back it would be great, but one of the problems with that is that Johnny is pretty much a man of his word.
"He's committed to Racing, and it would be pretty hard to see him coming out of there. I can't see it."