Women's Six Nations 2014: Non Evans frustrated at Wales' results

By Non Evans
Former Wales full-back
Last updated on .From the section Rugby Union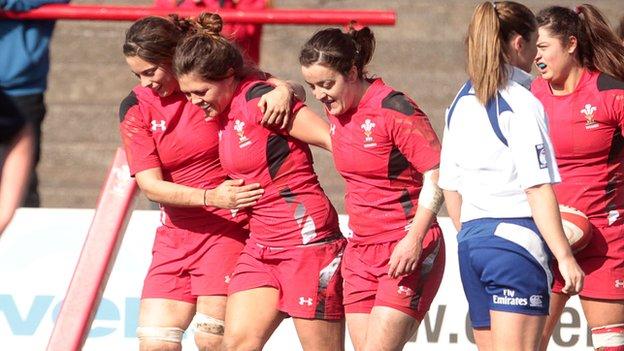 Former Wales full-back Non Evans reflects on the Wales Women's four losses out of five in the 2014 Six Nations. The final match against Scotland was their only win, and she assesses what this means for the World Cup in France in August.
If you look at the performances, it hasn't been a bad one for Wales' Six Nations campaign in 2014, but in results terms, it has not been great.
If one or two things had gone their way, or a couple of passes had gone to hand and if Italy had not scored in the last minute with a driving maul, the same with Ireland, it could have been very different.
So it has been a frustrating tournament for Wales, but I would say all the teams, apart from Scotland, are much closer than people probably think.
I believe it has been the closest Six Nations, in terms of performances and results, for quite a few years.
If you watched the games live or watch the highlights, there is no doubt the standard of rugby has improved across the board.
The only international team which is really struggling is Scotland but all the others are pretty close to each other now. Ireland were very unlucky to lose to France away, England just lost to France and Wales just lost to Italy and Ireland.
That is really encouraging for the Six Nations because England have dominated the tournament for the last decade and it is the first time France have won the tournament in 10 years and the first time they have won the Grand Slam.
Despite the losses in the other games, the England defeat was the only disappointing performance of the Six Nations. England didn't play that well and if England had played well it could have been a much bigger defeat.
That was Wales' only really poor performance of the tournament, we fell off tackles and that was the big disappointment.
We lost the other games but played quite well and had the frustration of losing in the last minute.
It was brilliant to finish on a high with the 25-0 win over Scotland, but in saying that, the Scots were very poor and they have now won the wooden spoon for the fourth year running.
Wales scored 25 points in the first half but there were a lot of replacements in the second half, with a lot of players getting game time ahead of the World Cup.
But it also meant that Wales didn't really go on and score more points to give the girls a real confidence boost ahead of France 2014.
Speaking to some of the players, they would have liked to have stuck with the starting line up and really scored some points.
Coach Rhys Edwards made changes but really it was players' mistakes, with passes not going to hand, which stopped Wales scoring more tries against the Scots.
If they can tweak those things, with a good three or months to prepare, they will be a lot better. They scored some brilliant tries against Scotland, could have scored more and probably blew six opportunities.
After finishing on a high with and with the World Cup looming, the problem for Wales now is that they do not play many games. I know the girls have been told they will have a couple of warm-up matches before setting off to France.
We had a couple of warm-up games against England when I played before the last tournament and you need that. The prospect of four months without a game is tough.
Wales will be back in training, with fitness testing in two weeks time, and if they can sort out the errors in the game, they will be a different proposition.
They have blooded a few young players, with centre Robyn Wilkins a very good goal kicker, every side needs that, and prop Catrin Evans was named in the top XV of the Six Nations.
Wales just have to turn good performances into winning performances but they have a really tough Pool, with France, who won the Grand Slam, Australia, the dark horses for the tournament, South Africa, who are a developing nation, and they will do well to qualify from it.
To do that, it's about turning performances into results.
Non Evans was speaking to BBC Sport Wales' Simon Roberts.