Adam Jones: Ready to make it 100 caps and four World Cups
Last updated on .From the section Welsh Rugby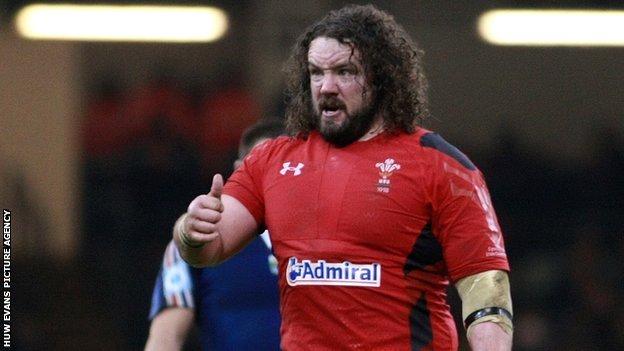 In his BBC Sport column, Adam Jones talks about reaching some personal landmarks, the motivation of having two young Wales tight-heads after the number three jersey, and looking forward to another tour to South Africa.
After the Six Nations it's time to move on and look forward to the tour to South Africa this summer and beyond.
At 33 years of age and with 94 caps, I still have some ambitions in the game.
I am being challenged by the two young tight-head props in the Wales squad - Rhodri Jones and Samson Lee. I want to use that as motivation and kick on to 100 caps. It's also a big goal of mine to make it to four World Cups.
It was odd against Scotland being among the Wales replacements because I haven't been on the bench for six or seven years. The whole build-up was a bit strange because you don't do the main preparations the starting line-up do.
You have got to do what is seen as best for the team. Gat [Warren Gatland] wanted to give Rhodri a chance and I think he played fantastically well.
Of course I want to be the starting tight-head and I'm well aware of the things I need to be doing to correct it and get back in the side.
It's a case of doing it now, working towards the summer in South Africa and onwards to the World Cup. I'm not ready to give up yet.
No post-Lions excuses
It's so scientific these days. They [the coaches] probably know how far you have run, walked or slept for over the past two years.
So, it's up to the coaches. You get pretty well managed by these teams. I think we are going to get a pretty decent rest after the tour.
If you ask any of the boys they want to go on the tour to South Africa and play no matter how tired you may feel.
Everyone says about the hangover this season from the Lions tour to Australia. Granted, I did have a hangover in the few days after the third Test and there is a bit of tiredness but that is no excuse. You are professional and you have got to get your body in that zone to actually play in these Test matches.
Finishing on a high
I'm sure we would have beaten Scotland quite comfortably anyway but Hoggy [Stuart Hogg] getting red-carded didn't help them, ending up on the end of a 51-3 scoreline.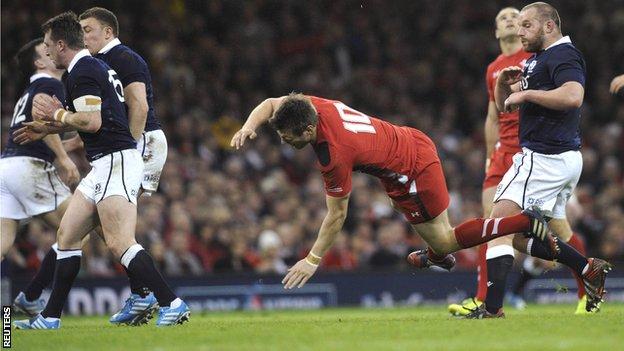 It was a case of us trying to score as many points as we could and finish the campaign off on a high.
When I started 10 years ago winning all your home games during a Championship would have been seen as a bit of a triumph.
Of course we let ourselves down ultimately by losing the two away games but, moving on, the way we played against Scotland shows our attacking intent.
It was a good way to finish in front of a full house and [strength and conditioning coach] Dan Baugh's last game.
No shame in not defending title
We hung a hat on the defence - a big thing was made of making three Six Nations Championships in a row - and it didn't materialise. We were poor in the two away games.
But take nothing away from England and Ireland. I thought Ireland were exceptional on the day, they were something else, and England were like no other England team I have played against.
There is no shame. We have now got to look forward to this tour to South Africa, the autumn internationals and ultimately the World Cup. We have just got to kick on.
South Africa will be tough - but we'll do well
South Africa is a good place to tour. It's very much in your face depending in what part of South Africa you are.
If you go to the High Veldt it is very aggressive.
I never forget playing in the second Test in Pretoria. It's good driving to the Millennium Stadium but driving in the coach to Loftus Versfeld stadium you see all the people having braais [South African barbecue] outside. There were a few choice hand gestures being thrown our way I can tell you.
That match finished my Lions tour with the shoulder injury but I think a lot of people felt a lot sorrier for me than I probably deserved.
It's going to be a tough tour and it's coming at the end of a hard 18 months. It will be a challenge and I think we will do well.
Taking on Gethin
Gethin Jenkins has been texting me already, asking if I'm playing in the Pro12 game on Friday, 21 March.
You never know I might be able to milk another yellow card out of him!
They are a good side but they have lost Pence [Leigh Halfpenny] and Warby [Sam Warburton] to dislocated shoulders.
I feel terribly for both of them but especially Warby because I was talking to him before the Scotland game and he was telling me it was the best he had felt for ages.
He said how great it was to go through a campaign without an injury and for him to get injured in the last minute against Scotland... I feel so sorry for him.
We have got to take that Cardiff team on their merits and then try to push on for the play-offs. It's going to be tough.
Adam Jones was talking to BBC Wales Sport's Richard Thomas.