Jerome Kaino eyes All Blacks again after Auckland Blues return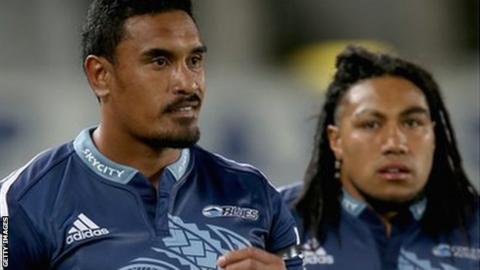 World Cup winner Jerome Kaino has taken the first steps in his bid to play for the All Blacks again by returning for Auckland Blues.
Flanker Kaino, who earned the last of his 48 caps in the 2011 Rugby World Cup triumph, wants to help defend the trophy in England next year.
Kaino made his first Blues outings since 2012 in the 40-30 victory against Cheetahs on Saturday.
"The first 10 minutes, I was like a headless chicken," he said.
Following his role in the World Cup, the 30-year-old's 2012 season was cut short by a shoulder injury.
Kaino then departed for Japan before he returned to New Zealand, stating his ambitions to make an international comeback.
Ma'a Nonu was also making his first Blues appearance for two years. The centre resigned from Otago Highlanders in October then had ankle surgery after the All Blacks' northern hemisphere tour late last year.