Sean Holley concerned by 'damage' to Welsh regions
Last updated on .From the section Rugby Union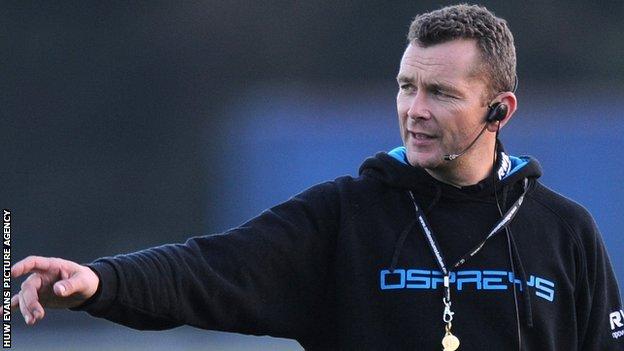 Bristol head coach Sean Holley has warned that Welsh club rugby could take years to recover from the situation it is currently in.
The recruitment drive of Championship leaders Bristol is an example of the financial power that Holley says the Welsh regions are up against.
"It's devastating... the damage is being done now," Holley said.
"But how will Welsh rugby recover from a regional and club level?
"I don't think it will happen overnight even with a new set of competitions.
"It's going to have a detrimental affect for a number of seasons and people have to really, really see that.
"You look at an Ospreys-Blues derby last Friday, barely 8,000 watching and a day later you've got 82,000 at Wembley watching two London clubs [Saracens and Harlequins].
"The potential of the English game is huge, which is a worry with the potential of the French game.
"We're moving to Ashton Gate next year to ground-share with Bristol City and the view is that if you get to the Premiership and play the likes of Bath and Leicester Tigers you're likely to get 25,000 people regularly.
"I don't have an answer to it. I'm a proud Welshman, I've given my all for the best part of 15 years to Welsh rugby and I intend - if there's a place - to come back and do some more.
"But in the meantime I'm either not wanted or there's no place for me."
While Holley feels for the state of the game in Wales, he is delighted to have signed 33-year-old forward Jones, who has won 75 Wales caps.
"There was a fair bit of persuading. Ryan's at the stage of his career where this is probably the one and only and the last move he was going to make," Holley added.
"There was a lot of considerations after a long time at the Ospreys and the loyalty he's shown there, and to get the move right for him and his family.
"He had some pretty big offers from elsewhere but I think he's bought into the vision and the ambition of Bristol Rugby, and I think it helps with knowing the likes of myself and Dwayne Peel signing as well.
"I'm obviously delighted he's coming to join us."