Worcester Warriors spirit is 'powerful', says Alex Grove
Last updated on .From the section Rugby Union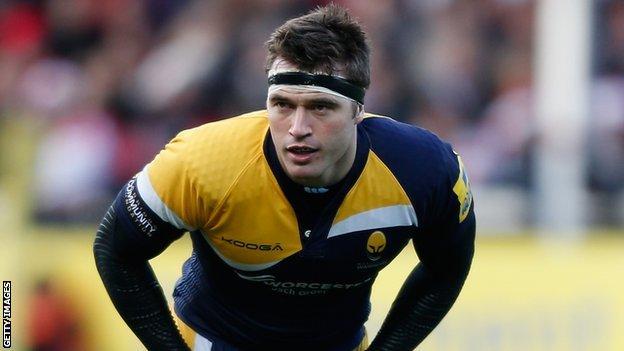 Worcester Warriors have had the look of a relegated team for most of this very disappointing campaign at Sixways.
Having already been defeated in all 17 of their Premiership matches so far this season, if they lose again on Sunday at nearest rivals Newcastle, their return to the Championship will be confirmed, barring only the ceremonial formalities.
But where there's life, there's hope, they say. And, despite going down to another potentially morale-sapping last-gasp defeat by Wasps last Friday, Scotland and Warriors centre Alex Grove insists that team spirit remains high.
"Performance-wise, the last six weeks have been so much better," said 26-year-old Grove.
"We know there are fine margins between success and failure. Right now it is just about results. And getting bogged down on the result is understandable.
"When you lose in those circumstances to Wasps as we did on Friday night in a game we had to win, then the result overshadows the performance.
"I would say that's the worst experience I've had, as bad as it gets. But effort-wise, we were right up there and you couldn't question the desire.
"But, while the atmosphere in the changing room on Friday night was awful, it was also powerful at the same time.
"If we'd lost in the last minute and knew that three or four guys were not pulling their weight and their heart wasn't in it, serious questions would have been asked on the Monday morning.
"But there was so much good stuff to take from Friday night. That's why it was so demoralising."
Instead of hanging on to claim their first Premiership win in over a year against Wasps and giving themselves real hope of staying up, Sunday's meeting at Kingston Park is more than simply the last-chance saloon - Gary Cooper and John Wayne are behind the bar preparing to place the towels on the pumps.
But the occasion has been spiced up nicely by the words of Newcastle director of rugby Dean Richards who, talking to a 300-strong fans' forum at Kingston Park last week, labelled Worcester's 32-year-old winger David Lemi as "past his sell-by date".
Add to that Richards' own connections with Sixways, having been seriously targeted for the job by Worcester owner Cecil Duckworth when he left Leicester in 2004 before being contacted in 2010 in an advisory capacity over the appointment of Richard Hill.
And Grove can also look to the past to seek further inspiration.
"Worcester have escaped relegation when it looked certain with 10 games left," recalls Grove.
In fact, roles were reversed when the two sides last met at this business end of the season back in March 2012.
It is two years, almost exactly to the day, since Grove ran in the most important of his 25 career tries for the Warriors against Newcastle.
When he crossed the whitewash for the only try of the game to secure victory in a 19-9 home win over the Falcons, it all but relegated Newcastle - and secured the Warriors' participation in the Premiership for another season.
"We were in similar positions," continued Grove. "Both teams were at the bottom of the table.
"But it was another of those Friday nights at Sixways when the atmosphere was top drawer and our victory meant that they were relegated."
Newcastle got their revenge when they won at Sixways in October - a 16-11 away victory, despite Lemi's late try, that now looks the most crucial of all Worcester's defeats this season.
But Richards' Falcons have won only two other league matches all season, keeping them tantalisingly still within Worcester's reach.
Had Worcester hung on to beat Wasps on Friday night, there are those who believe that would have given the Warriors the platform to go to Kingston Park, win and then go on to stay up.
"Had we won we'd have gone with tails up," admits Grove. "And, clearly, if we don't win this weekend, we're down.
"But we at least have the chance to make them work for it for another week."