Neck injury forces Connacht prop Brett Wilkinson to retire
Last updated on .From the section Rugby Union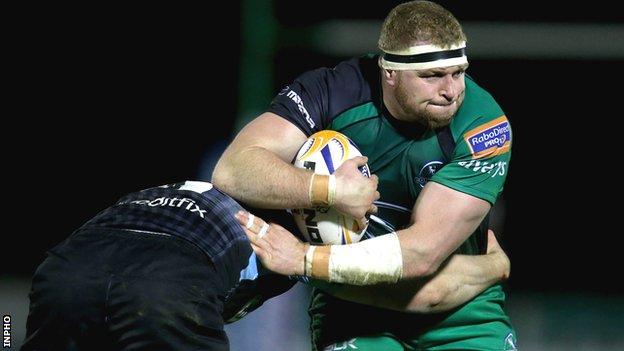 Connacht prop Brett Wilkinson has retired from the game because of a serious neck injury.
The 30-year-old South African sustained the injury in the Heineken Cup game against Saracens in January.
Wilkinson, who joined Connacht in 2006 and made 183 appearances, damaged a ligament in the upper part of his neck.
"I'm devastated that I won't play again but the nature of my injury was very serious and I have to appreciate that I have my health," he said.
Following two medical consultations, the former Ireland A player has been directed to cease contact sport with immediate effect.
He will wear a neck brace continuously for three months to stabilise the damage and rule out the need for surgery.
"It has, of course, come as a big shock for me that I have to retire so suddenly," added Wilkinson.
"It's strange to find myself in this situation but I've had time to get over the initial shock and now I am just really grateful for all the opportunities I've had through rugby.
"Connacht has been building and building every year and while I'm sad I won't be a part of it in the same way anymore, I'm excited to follow its progress as a supporter and friend.
"I've been involved in coaching at club level around the province and it's something I've really enjoyed and would like to explore further. "