Rugby club tells fans to respect official or go elsewhere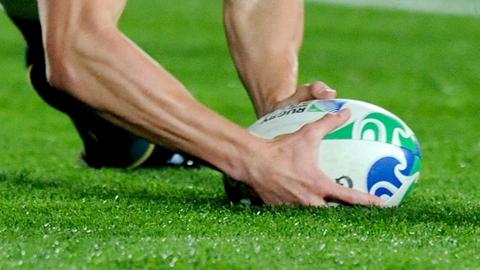 The chairman of Newbury RFC has told fans to find another club to support if they wish to abuse match officials.
Hywel Price-Richards wrote to supporters following the home game versus Cheltenham after being concerned at comments aimed at the referee.
"If you feel this is the correct way to behave I suggest you find another club to support," wrote Price-Richards, who has defended his letter.
"There is no room for it in our club," Price-Richards told BBC Sport.
"We set a very high standard, we have a duty to teach all our kids, we have something like 500 kids playing every Sunday and we don't want to set a bad example.
"We get some clubs who visit and the behaviour of their supporters is intolerable. We are not having it."
Welshman Price-Richards, 65, has been involved in rugby for nearly 50 years and says he has noticed a gradual decline in the attitude towards referees.
And he hopes his message will eradicate the abuse of match officials at the South West One East club.
"My message is we need to start treating our officials in rugby with the respect they deserve," said the Merthyr Tydfil-bred official.
"Without them we don't have games, they don't get paid and they don't deserve the treatment they get. I am not against witty comments, that is part of rugby tradition, but to be abusive is not acceptable.
"You hear cries from supporters who are 150 yards away, but how can they possibly tell? The referees know the laws better than spectators.
"I think it's been getting worse over the years, it's not in a bad state but when you look at football and the way they scream at referees that is not acceptable and if we are not careful we will go down that route."
Newbury take on Marlow at home this weekend and alongside the letter, the club also put notices up around the ground prior to their last home match.
Price-Richards added he already had a very good response from supporters - who were warned they would be ejected if fans are "unable to behave themselves to the manner required at the club".
The letter added: "The referee is our guest and should be treated as such with courtesy and dignity."