Jersey forward James Voss set to leave for Gloucester
Last updated on .From the section Rugby Union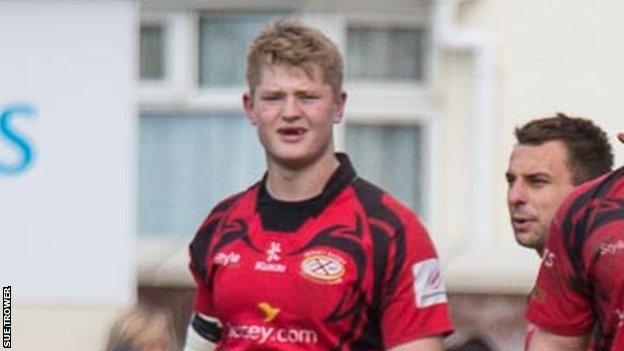 Jersey forward James Voss is set to leave his home island for a place at Gloucester's academy.
The 19-year-old second-row says he has been offered a scholarship with the Premiership club to continue his education as well as his rugby.
"I've been lucky enough to get the invitation from Gloucester for a full scholarship," Voss told BBC Jersey.
"There are some opportunities that you can't turn down and I think this might be one."
Voss signed his and has gone on to appear 29 times for the club since making his debut as a 17-year-old in their national One title-winning season in December 2011.
He has scored one try in his time at the club, in earlier this month.
"I've got to look at options for my life after rugby," Voss said. "Jersey's a great place to play and I've got to make some heavy decisions.
"Getting both an education and playing with a Premiership side, developing my rugby and my education, I don't think you can get much of a better opportunity."