WRU sets out how it helps the grassroots game in letter to clubs
Last updated on .From the section Rugby Union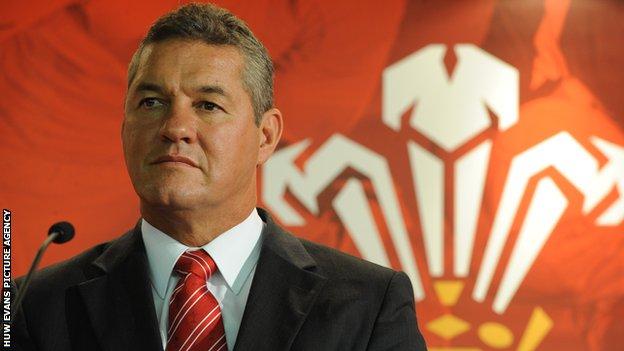 The Welsh Rugby Union (WRU) has written to its 320 member clubs claiming it runs, "one of the most successful unions in the world."
One of the three signatories is chairman David Pickering.
Former WRU chief executive David Moffett has been canvassing clubs for support as he seeks to oust Pickering.
The union's letter lists "reminders" of how it puts its strategy into action to help the game.
In March, Moffett unveiled his manifesto as he seeks election to the Union's board.
It includes proposals to invest more money in grassroots rugby, to change the way the game is governed and the introduction of five-year rolling franchises for professional sides.
He says he wants to resurrect the community game and claims it has been kept poor by the Union.
In its letter to the clubs, dated 4 April, the Union outlines its investment in grassroots rugby.
It says over the past five years it has helped pump, "more than £27m into the community game."
"Aside from that our direct annual funding structures have ensured a constant level of criteria-based funding which last year saw the community game draw down £4m in WRU support.
"An extra £1.3m was distributed directly into the community game at the end of the last year on the back of a strong financial performance by the WRU. This was in the form of £800,000 for club facilities grants, £300,000 for new club websites and £200,000 for schools projects."
It says WRU head of rugby Josh Lewsey's recent review into the game in Wales, includes proposals, "to tackle the issues which can really make a difference at the grassroots level."
The union says it is sharing the information with the clubs to "ensure" it "can continue a dialogue and informed debate."
"Of course there have been problems and issues which deserve to be scrutinized and talked through," says the letter.
"The remit of the governing body is so wide that there will inevitably be matters to address.
"Your role in that debate is crucial because our constitution places the ownership of Welsh rugby in the hands of our clubs."