Scottish Rugby open talks to explore Aberdeen pro team

By Tom English
BBC Scotland
Last updated on .From the section Rugby Union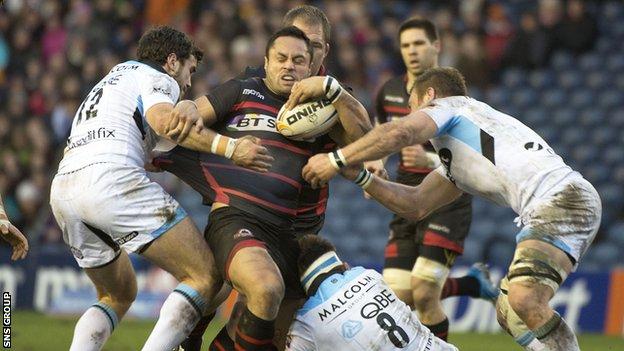 Scottish Rugby has held talks with one of Scotland's leading businessmen about the possibility of setting up a new professional team in Aberdeen.
Murrayfield chief executive Mark Dodson has spoken with Martin Gilbert, the head of Aberdeen Asset Management.
"Martin said he would be looking at supporting a third professional team if there ever was one in Aberdeen," Dodson told BBC Scotland.
"We're open to anybody who wants to put large amounts of money into the game."
Last month, Gilbert told BBC Scotland that his company would like to back a team "of the calibre of Edinburgh or Glasgow".
However, Dodson was quick to stress that there were "obstacles" in the way of creating a third Pro12 team for Scotland.
"You have to have a significant amount of money over a long period of time to sustain it - a four- or five-year business plan," he explained.
"You have to have somewhere to play. And you have to have a league to play in. There is no available place for this third team to play as it currently stands.
"But that doesn't mean to say that we're not open to talking about it.
"Martin and I are going to have a regular dialogue going forward. He's been a great supporter of Scottish rugby in the past. Our reality is that anybody who wants to put money into Scottish rugby, we're happy to talk to.
"There's a lot of people who are prepared to put money in, but once they understand the level of money required you usually find that, perhaps, they're not as interested as they first were.
"There's a big difference between sponsoring a team and underwriting a team. You ask any of the investors in France or in England and they'll tell you that it's not much of a business model.
"It costs somewhere between £6m and £7m per annum and you've got that for four or five years. You're talking a significant investment.
"There are very few rugby clubs in the world that are making money."