WRU: David Moffett 'has support of enough clubs to force EGM'
Last updated on .From the section Rugby Union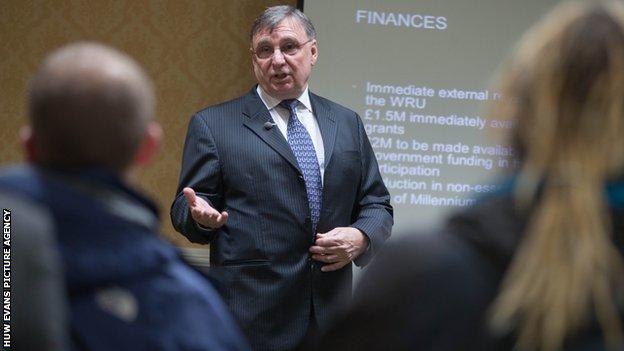 David Moffett says he has enough support from the Welsh Rugby Union's member clubs to force an extraordinary general meeting.
Former WRU chief executive Moffett, 66, intends to stand for election to the governing body.
He says he has the support of 32 of the 320 clubs, the number required to force an EGM.
"I've got, at the last count, just around about the number I need for the clubs to call an EGM," Moffett said.
"But I'm not going to do that with only 32 clubs - I want many more than that because I don't want any clubs that might suffer the consequences if there's only 32 of them.
"I'm going for a lot more than that and we've got a plan in place for the next two or three weeks which sees us going out on various meetings.
"We're inviting all the clubs to come along, ask me questions and I'll answer any question they have in respect of the manifesto.
"Then hopefully we'll be in a position at the end of that week to be able to announce that there will be an EGM called, and I feel confident that there will be.
"My plan for the future of Welsh rugby is driven from the bottom up, not the top down.
"It's my absolute unshakeable view that the WRU has neglected that [grassroots] game in favour of Team Wales and it's got to stop."
Moffett, WRU chief executive between 2002 and 2005 and a former head of Regional Rugby Wales, was responsible for the move to regional rugby and has been critical of how the union is run.
The Welsh Rugby Union has announced a multi-million pound boost in investment into both the community and professional game in Wales.
But Moffett claims the timing of the governing body's announcement was in direct response to his plans for election to the WRU board.
The WRU maintains the investments are year-on-year increases in line with its five year plan.
However, the Union has has declined to respond publicly to Moffett's comments.
Moffett's 17-point manifesto proposes more money for grassroots rugby, a better relationship with the regions and to renegotiate the WRU's debt.
"I think there's a degree of panic in the WRU at the moment which is no doubt being accelerated by my release of the manifesto and previously by my release of a pretty damning review of the financial situation," Moffett said.
"They still haven't responded to the financial documents even though they said it was scurrilous and they also said that it was inaccurate.
"They must think there are some accuracies in there because one of the deductions I made was that there was more money to fund the game and they've come out with that.
"Unfortunately it's not all as it seems. You have to have a look more closely at the numbers because they [WRU] don't put numbers in, they put percentages in.
"Everything that they've written recently, even the paltry amount that they are now saying, indicates to me they are not serious about the grassroots of the game."