Dean Ryan says Worcester Warriors still have escape plan
Last updated on .From the section Rugby Union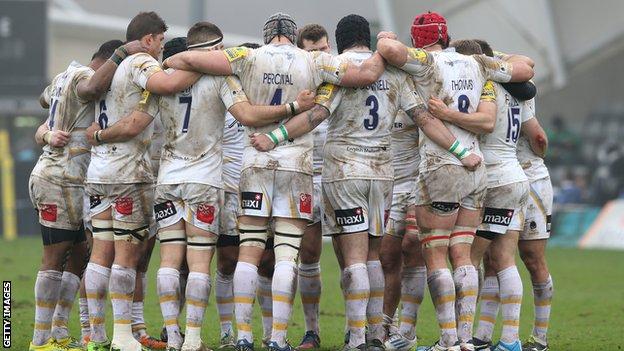 In 'Escape' terms, just three weeks ago, Worcester's survival hopes really did not look too 'Great'.
When the Warriors lost in added time to Wasps in their last home game on 21 March, it looked as if relegation was a certainty.
After 22 straight Premiership defeats stretching back 13 months, Worcester, season-long favourites to be relegated, finally looked to be heading for the Championship.
But victory the following week at Newcastle, Worcester's first league win of the season, has rejuvenated the Warriors.
They still trail the Falcons by nine points, knowing that they need to win at least two of their final four matches to stand even a chance of surviving.
But, going into Saturday's home game with Exeter, the emergency tunnel remains undiscovered.
And boss Dean Ryan may yet prove Sixways' answer to Steve McQueen.
"I must have written about five or six escape plans," admits the Worcester director of rugby, with a rueful smile.
"They just kept changing every time we didn't win a game.
"I'm on the last one now and it's buried deep, but we've still got one.
"We were never going to give up fighting, but I have to admit the door was about to be shut.
"It was an ugly win at Newcastle. We looked the more positive team in a pretty dour contest.
"It was pretty nervous and edgy, but it was a reward for the players' efforts.
"Across the last six weeks we seem to have flattened out those dips in our performance and we've got more consistent.
"We're now performing better more often. And, if you can take any game to that 60 or 70-minute mark and still be in it, you always stand a chance.
"Exeter beat us pretty convincingly down there and caused us problems here in the LV= Cup.
"But Saturday's game is as good as any chance, and we're at home."
The fact that Exeter - very much the benchmark that Worcester set themselves against as a club - are the team who have handed out Worcester's two heaviest defeats of the season ought to feel daunting.
But, such is the confidence to be gained even by one victory, on top of the string of encouraging performances that preceded it, Worcester simply do not think that way.
"I don't think any side would be looking forward to playing against us in the sort of form we are in," says Warriors skipper Jonathan Thomas. "It's knock-out rugby now.
"It's out of our hands but, if we do our bit by winning our home games and potentially winning one away, we are still in with a shout."
Ryan points to that suddenly bubbling Sixways team spirit as a key factor.
"It was an obvious relief to win at Newcastle," he added.
"Sometimes you don't realise the pressure you're operating under until it's taken off you.
"But, remarkably, the group has remained really tight.
"We'd been close for a couple of weeks before that and to finally get some reward when you knew if we lost it would effectively rule us out of staying in the Premiership has allowed us to be a bit more relaxed.
"We had the chance of a few beers.
"Everyone says we've got to go to Bath away and Saracens away but this group has come a long way in a short space of time.
"We know we have to pull off a miracle match somewhere. But, if we can just get to the last weekend, anything can happen."