European Rugby Cup won't hurt international game - McCafferty
Last updated on .From the section Rugby Union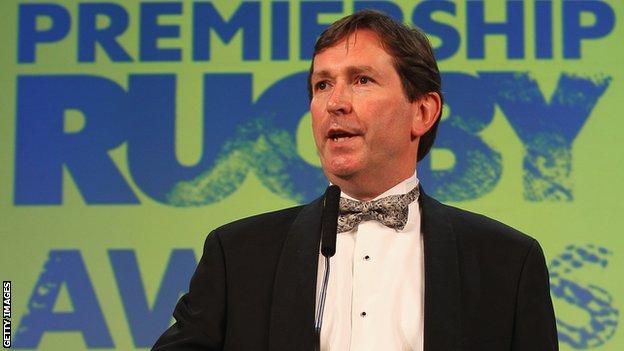 The new European Rugby Champions Cup will benefit fans without damaging the international game, says Premiership Rugby chief executive Mark McCafferty.
It ends a two-year dispute over the structure of European club competition.
"I would argue this does not need to be to the detriment of the international game if you do it in the right way," McCafferty told BBC Radio 5 live.
The Champions Cup will involve 20 teams - a reduction from 24 - with six from the English Premiership, six from the French Top 14 and seven from the Pro12. The 20th qualifier will be decided by a play-off.
A new European Rugby Challenge Cup will replace the second-tier Amlin Cup, while a third-tier cup will be introduced, called the Qualifying Competition.
Rugby's authorities have been working together to attempt to resolve a dispute sparked in June 2012, when the Premiership and Top 14 clubs gave two years' notice they would be withdrawing from the Heineken Cup.
The clubs were unhappy with the distribution of money from the tournament, and with its qualification structure.
Thursday's eight-year agreement for the new set-up was signed by the unions for each of the Six Nations countries, along with the club bodies for England, France and Wales.
The tournaments will be headed by European Professional Club Rugby, a new Swiss-based association, which will replace current organisers European Rugby Cup (ERC).