Blaming Steve Borthwick for England failures 'unfair' - McCall
Last updated on .From the section Rugby Union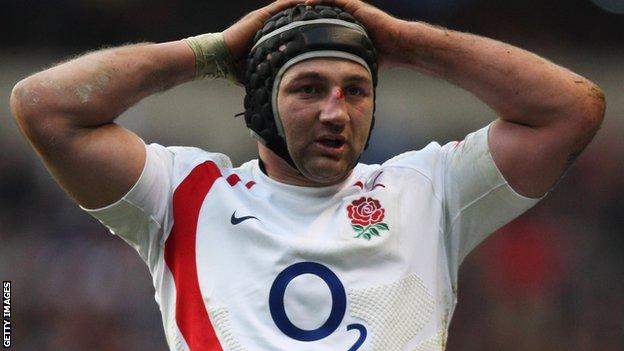 Saracens director of rugby Mark McCall has criticised the "damaging" treatment of Steve Borthwick as England captain.
McCall insists the Saracens lock, 34, was the scapegoat for a failed regime during a troubled period for England.
"Steve has had a rough ride," McCall said. "He took unbelievably unwarranted criticism during his England days."
Borthwick, set to break the Premiership appearance record, was made England captain in the 2008 Six Nations but has not played for his country since 2010.
Borthwick, who retires at the end of the season, will set a new appearance record of 263 games, since the Premiership's inception in 1997, in Sunday's game with Northampton.
Initially appointed England captain by Brian Ashton, he was at the helm for the disastrous tour to New Zealand in the summer of 2008 and retained the role under incoming manager Martin Johnson.
However, Borthwick suffered a knee injury in 2010 and has not added to his 57 caps since amid claims he had taken the fall for the team's lack of success.
"He carried the can for an underperforming organisation, which is not fair," McCall said.
"Why he has the reputation he has is beyond me. If you get that much public criticism, it's going to cause some damage. It has to.
"To have continued on at club level in the way he has and to have led the team the way he has speaks volumes for him."
Borthwick could mark his 15th and final season by leading Saracens to a Premiership and Heineken Cup double with the side in the semi-finals of both competitions.
"We've all had captains who were great leaders by example, or who could press the right buttons and motivate people, or who were very good strategically and could change things around," McCall said. "But Steve is all of those things and that's unbelievably rare."