Tom Rawlings: Ex-skipper to leave 'unprofessional' Launceston
By Brent Pilnick
BBC South West Sport
Last updated on .From the section English Rugby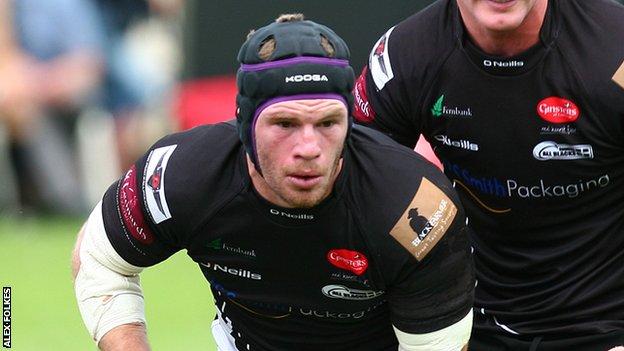 Launceston assistant coach and former captain Tom Rawlings is leaving the club after criticising the process for appointing a new coaching team.
The club have yet to appoint a new head coach after
Rawlings claims he was in interim boss Neil Bayliss's plans as forwards coach, but the club did not appoint him.
"It was a bit unprofessional the way in which they presented it to me without finding anything out about me as a coach," he told BBC Sport.
"It was made quite clear to me that Neil Bayliss, who is our current director of rugby and will hopefully be appointed as director of rugby (wanted me), I was in his presentation and his plans for the club going forward as forwards coach."
Rawlings said he had not submitted an application because he thought he was "still in the club's plans for going forward for next year."
However, club secretary Simon Johnston insisted the interview process was "extremely professional", with six candidates seen already, although no-one has yet been appointed to any of the club's vacant coaching roles:
"We have not approached anybody to let them know where we are with regards to staffing for next season," Johnston added.
"Tom is more than entitled to his opinions as to how he sees the procedure going or has gone."
Launceston are still not safe from relegation from National Two South.
They must win what will be Rawlings' final game against Shelford at Polson Bridge on Saturday to secure their status in the fourth tier of English rugby.
"Ultimately our focus, as a club, and that involves everybody, is making sure we are a National Two team next season," Johnston said.
"I do not want to see Tom leave at the end of the season and I'm hoping after we beat Shelford, as we must do, that a conversation will take place with a lot of the senior members of the squad as regards where we go next season."
Rawlings, who played for Hartpury College and Birmingham Solihull, joined Launceston when they were promoted to the second tier in 2007 and stayed despite their subsequent fall back down the leagues.
"I've had a wonderful seven years here and have some really great memories that will stay with me forever," the 28-year-old said.
"As frustrated as I am, we've got to go out this weekend, we've got to win and hopefully I'll enjoy my last game in a Launceston jersey.
"No club has touched me and been as close to my heart as Launceston has been.
"Walking out to the Polson field, hearing the roar, really makes the hairs on the back of your neck stand up," added Rawlings, who now plans to concentrate on his family and his coaching work at Truro College.
"Every guy I've played alongside in a Launceston jersey I'm best of mates with to this day and it shows the sort of character they draw to the club.
"It's been my heartbeat for the last seven years and I'm going to miss it hugely."
"Who knows, I might get to pre-season, December or a year down the line and I might say 'I need to get Launceston back in my life.'"