Glasgow 2014: Can Scotland make their mark at Sevens?

By Tom English
BBC Scotland
Last updated on .From the section Rugby Union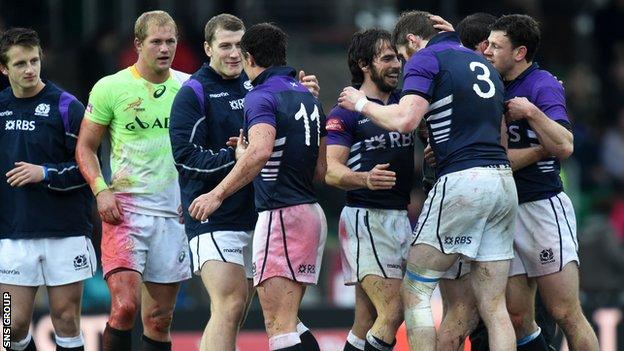 The rain may have tumbled down on Scotstoun on Sunday but it couldn't wash away the feeling that Scotland have at last made their presence felt on the Sevens World Series.
It's been a long time coming. From week one in October in Gold Coast, Australia and onwards to Dubai, Las Vegas, Port Elizabeth, Wellington, Tokyo and Hong Kong, the Scots have not been at the races, finishing bottom of their pool more often than not and sending out a message, event after event, that nobody back home should be expecting anything from them come the Commonwealth Games.
Before Sunday in Glasgow, Scotland were ranked 12th of the 15 nations that had competed in all eight rounds. Only the USA, Portugal and Spain were below them.
At the business end there is New Zealand, who are as dominant in this form of rugby as their fifteens are in theirs. Then it's South Africa. The next level down is the fast-improving England, Australia and Canada.
Tailed off: Scotland.
Each event involves a pool stage after which four separate tournaments take place depending on how you've done in your first three games. The successful ones play for the Cup, then it's the Plate, the Bowl and the Shield for the also-rans, where Scotland have resided for much of the season.
Only once this season had Scotland qualified to play with the big boys in the Cup. That was in Dubai in November. In Glasgow it happened for a second time.
The Scots beat Australia in their pool, then took down the mighty South Africans in the quarter-final. In the semi they lost to Canada, narrowly but deservedly. In the third and fourth place play-off they were outgunned by Fiji.
Even in defeat, though, there were signs of progress. Only a converted try separated them from Fiji. Previously this season, when they played the Fijians, the Scots were always routed, most recently by 24-0 in Las Vegas in January.
This was progress where before there was none. This was optimism ahead of the Commonwealth Games. The dogs in the street know that New Zealand will win gold at Ibrox, unless they all come down with some form of plague. They won gold at each of the last four Commonwealth Games.
On every available scrap of evidence you have to conclude that everybody else is playing for the consolation medals.
To see what the Kiwis did to Canada in the Cup final on Sunday was to know that they are playing a different game. Their pace, their anticipation, their support-lines, their dexterity, their speed of thought out-strips all others. They are wondrous to watch.
South Africa, bronze medallists in Delhi four years ago, will be favourites to make the Commonwealth Games final along with New Zealand. It shows you what a fine feat it was for Scotland to beat them on Sunday. In the world rankings they are in second place, 10 points clear of Fiji, who can't compete at Ibrox.
Fiji will be a huge loss. They have in Samisoni Viriviri one of the deadliest exponents of sevens, but a military coup in their country brought suspension and even though there is a partial lifting of that ban, it does not apply to their rugby side.
So behind New Zealand you have a number of live contenders for medals. It's too early to say that Scotland are part of the conversation but at least they're going to be in the room when the conversation takes place.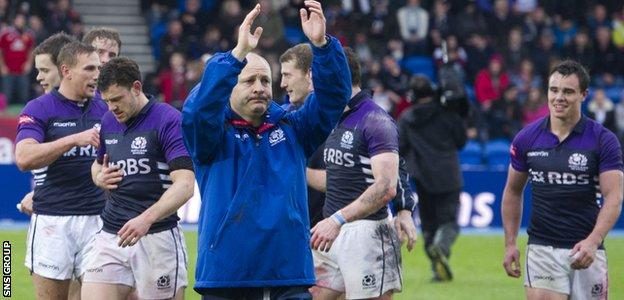 One tournament doesn't make them medal prospects, of course. The final round of the series takes place at Twickenham this weekend and Scotland have to back-up their good work from Glasgow or else they might find themselves dismissed all over again.
After that, there is the short wait until Stevie Gemmell announces his squad for the Games. There's a debate to be had ahead of that announcement. Unquestionably, Scotland were stronger in Glasgow because they had several professionals from the 15-man game at their disposal. Nick de Luca was excellent. Richie Vernon, too. James Eddie's power was a factor.
What Scotland badly lack is a stronger squad and a facility to rotate players and not lose quality. They don't really have that at the moment. Too much of the burden rests on too few of the players. The squad needs depth.
It also needs a flying machine. All the leading nations have at least one. You looked at Scotland and wondered what damage Stuart Hogg would have wreaked out there. Or Sean Maitland. Or what impact the off-loading skills of Mark Bennett would have had. Bennett played in the Hong Kong sevens in March and was outstanding.
The question is should they be involved and will the Scottish Rugby Union allow them to be involved? The senior side have an arduous summer tour ahead, a four Test odyssey that takes them to Houston to Toronto to Cordoba and on to Port Elizabeth from 7 to 28 June. The Games begin less than a month later.
Vern Cotter wants a look at as many of his new players as possible. That's wholly understandable. The tour almost demands two squads; development players and established Test men. Where do the Sevens fit into all of this?
If Scotland can be more competitive at Ibrox with Hogg in the squad, then how do you serve the greater good? Do you spare him the summer trek and commit him to the Sevens in the hope of winning a medal that would bring feelgood all over the country? Or do you prioritise Cotter's tour because the bread and butter of Scottish rugby is the Test side and everything possible must be done to facilitate it?
What we know is that the standard of sevens is high and it will be even higher at the Games. Scotland have shown that with a home crowd behind them they can be a force, albeit one that would have finished outside of a medal position.
The dilemma comes when it's time to pick the squad. That's when we'll know how serious a prospect Scotland will be at Ibrox.