Warren Gatland selection warning for England-based Wales players
Last updated on .From the section Welsh Rugby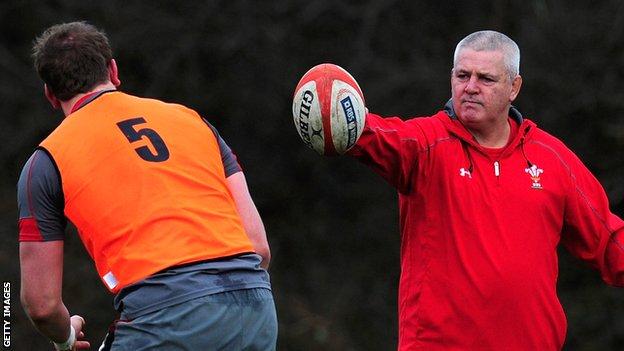 Wales coach Warren Gatland has warned that he might consider not selecting England-based players in future.
Negotiations are ongoing, but Gatland remains concerned by the continuing uncertainty over player availability for Wales duties.
"It makes it difficult to select them if they're not involved," Gatland said.
"Going forward, we might have to review the policy of potentially selecting England-based players if they're not going to be available.
"It's something we'll look closely at, particularly at the end of the season when we're preparing for tours.
"Players that have gone to France, some of them have negotiated full release and that's helpful.
"But at the moment, apart from George North who has got that, it's sometimes difficult with players coming from England."
North has negotiated full release for Wales duties in his personal contract with Northampton.
But the Saints are placed in a difficult position by that agreement.
They were fined £60,000 by umbrella body Premiership Rugby when the British and Irish Lions wing was released to play against Australia last November as the match took place outside the International Rugby Board's official Test window.
The Premiership final and the French Top 14 final both take place the day after the Wales trial match.
Gatland does not expect any Welsh players involved in those games to be available for the trial game at the Liberty Stadium, but wants the players who have finished their seasons to be available.
"We've been in contact with Premier Rugby to say we're going to name the players in the squad," Gatland said.
"We're just hoping that common sense prevails and those players that are finished for the season are released.
"I can understand Premier Rugby protecting their competition, but I don't understand when players are finished for the season why they wouldn't be available. I hope there's some goodwill in the game."
One of those players who could be affected by Premier Rugby's stance is Bath utility back Gavin Henson, named in the Probables squad three years after making his last Wales appearance.
Gatland played down the 32-year-old's inclusion as significant and said that places for June's two-Test tour of South Africa were up for grabs among the Probables and Possibles teams.
"I don't think he's [Henson] a talking point at all; he hasn't been involved since 2011," Gatland added.
"He's just one of 52 players and he's got a chance, he's just got to make the most of his opportunity.
"What we've gone through in our heads at the moment is to pick a starting XV for the Probables and then we'll pick the next best XV for the Possibles, and then we'll mix up and put guys on the bench.
"It's a massive opportunity for players from both teams to get on that tour, put their hand up and start thinking about the World Cup."