Murrayfield £20m naming rights talks 'at advanced stage'

By Phil Goodlad
BBC Scotland
Last updated on .From the section Rugby Union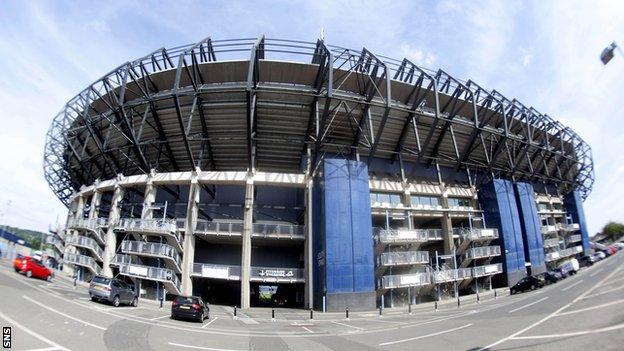 Talks to sell the naming rights for Murrayfield Stadium in a £20m deal are at an advanced stage.
Scottish Rugby - whose chief executive Mark Dodson mooted such a move in 2012 - and BT are close to agreeing terms.
Should a deal - for a period of five-to-seven years - be reached it could wipe out Scottish Rugby's debt which currently stands at just over £11m.
Scottish Rugby's Dominic McKay said it would not comment on speculation but was aiming to "grow its revenues".
Director of commercial operations, communications and public affairs McKay added: "Scottish Rugby is always looking to grow its revenues in order that it can reinvest any monies to help to grow the game of rugby throughout Scotland."
BT, meanwhile, has declined to comment on the proposed sponsorship agreement.
Speaking in October 2012, Dodson raised the prospect of renaming the Edinburgh stadium and said it could raise millions of pounds.
"The single biggest piece of our inventory is our national stadium," he said at the time. "We would like to see if we can monetise that.
"It would be crazy for us not to look at using our single biggest piece of inventory to drive revenue. We want to get the right price for it.
"We're looking at trying to bring money in across our inventory," he added. "We want to be sympathetic about how we do it.
"It depends on how you pitch and what goes in the package, but it's millions of pounds a year."
Emirates paid Arsenal £100m to have its name on the club's stadium for 15 years, and also recently paid £5m for the naming rights for the Sir Chris Hoy arena - the new velodrome for the 2014 Commonwealth Games in Glasgow - for the next 10 years.
The Ireland football and rugby teams play at the Aviva Stadium.