Billy Vunipola: Saracens experience to aid England man
Last updated on .From the section Rugby Union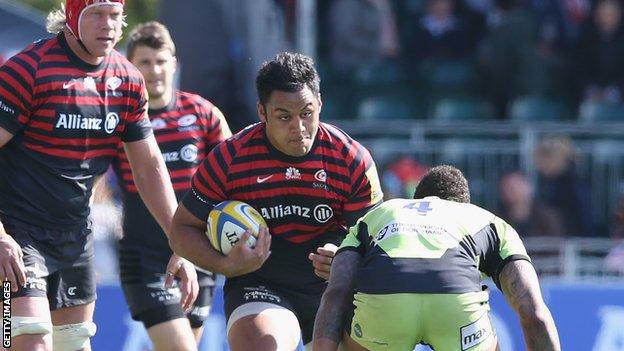 England number eight Billy Vunipola says being involved in the Premiership semi-finals with Saracens will improve his game in the long-term.
Sarries welcome London rivals Harlequins to Allianz Park on Saturday.
"The bigger the games, the better it is for your development," the 21-year-old told BBC London 94.9.
"Playing in these high-pressure games will help me in the future, not just mentally but physically as well. The intensity is higher."
He added: "It's one of the main reasons I joined Saracens.
"Being in the semi-final is special but that one step further would be awesome."
Vunipola joined Saracens from London Wasps last summer, having made his first-team debut for the Adams Park outfit in 2011.
Born in Australia and raised in Tonga and then Wales, Vunipola qualified to represent England on residency grounds and made his international debut on the tour of Argentina last June.
Vunipola has now won eight caps for his country and his displays this campaign saw him named the Premiership's discovery of the season on Thursday and nominated for the Rugby Players' Association's England Player of the Year award.
Despite gaining praise and personal accolades the forward says he still has a lot to accomplish in the game.
"I have come a long way and have to thank my faith, which has brought me this way, and my mum and dad," he said.
"It is part of our core values at Saracens that we stay grounded, but part of my growing up was knowing where I came from.
"I know how hard it was to get here but I know if I stop now then it will just get harder. That is great as I can't really be jumping and shouting when I haven't done anything or won anything.
"I've got nothing to back me up at the moment. Until I am like Lawrence Dallaglio and retired with a World Cup medal and umpteen trophies then I won't be arrogant.
"I still need to keep fighting and have a long way to go."
Saracens have finished top of the Premiership table for the second year running but must beat Harlequins on Saturday if they are to have any chance of becoming champions for the first time since 2011.
"It is a good accomplishment but I don't think people will give us a vindication of success until we get into finals and win trophies," Vunipola said.
"This one is the big one. The year has been massive for us but consistency doesn't count for anything in semi-finals and finals.
"We are prepared for it. Harlequins are a team which likes to keep the tempo very high. You see that from when Danny Care taps the ball quick from a penalty five metres out from their own line.
"We will try and close it down but sometimes in the game you need to think on your feet and deal with whatever comes at us. From watching Quins they have a lot in their bag.
"They had a great run with five wins on the trot to get into the top four."
Sarries have already booked their place in the Heineken Cup final next weekend, when they will face Toulon in Cardiff, but Vunipola is wary they must keep their concentration if they are to reach the Premiership final at Twickenham as well.
"As a team we try and focus on the job ahead," he said.
"It is an exciting prospect but if we get ahead of ourselves we will forget about Quins and the threat they pose. We need to try and win that game and then look forward to the [Heineken Cup] final."