Rugby World Cup 2015: Sale of community tickets delayed
Last updated on .From the section Rugby Union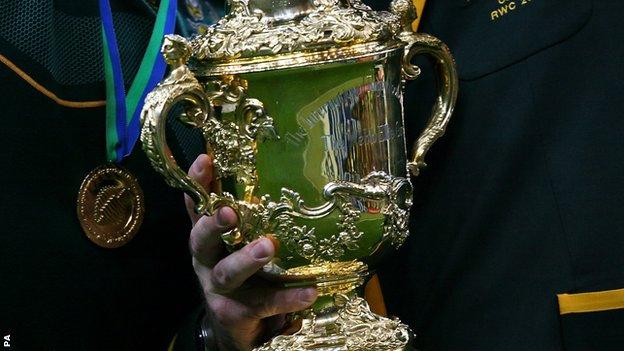 Half a million tickets for the 2015 Rugby World Cup - due to go on sale on Friday - have been put on hold.
Clubs affiliated to the Rugby Community Ticketing Programme must now wait until 29 May to buy their priority tickets.
Up to a million tickets will go on general sale from 12 September to 29 September, as previously announced.
A spokeswoman for England 2015 told the Daily Telegraph: "This is a sensible and prudent decision, and we all want the best possible ticketing experience for rugby fans.
"So if the system needs a bit more testing - and the clubs have a bit more time to register their members - then we believe that is the right thing to do."
The sale on Ticketmaster of 100,000 additional tickets for Glasgow 2014, released on Monday, was suspended on Tuesday after problems and delays.