Guernsey to play Cornish Pirates in pre-season friendly
Last updated on .From the section Rugby Union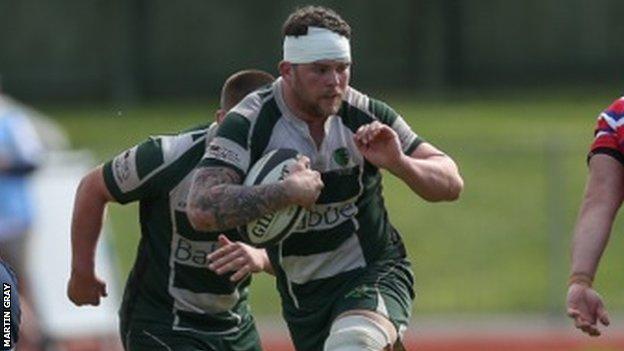 Guernsey boss Jordan Reynolds says the club's pre-season friendly with Championship side Cornish Pirates is a "fantastic opportunity" for the club.
The Pirates visit Footes Lane on 9 August after spending the previous week in the island at a training camp and coaching local players.
"Having them over is fantastic opportunity for us and for them," Reynolds told BBC Radio Guernsey.
"We've been working pretty hard to develop these links with major clubs."
Pirates signed last summer and have developed links with the island club, who play in National Three London, ever since.
"This is a pretty big opportunity for us, obviously it's in our best interests to try and draw on these clubs to show a great rugby spectacle and we've got a great opportunity to do that on 9 August," added Reynolds.
"We've worked pretty hard to get where we are now and it's great that everything's coming together.
"If you take Cornish Pirates in the big spectrum of things they're one of England's greatest and oldest clubs.
"For us to bring them over to Footes Lane gives an opportunity for the community, who perhaps aren't usually involved in rugby, to have a look and have a great day.
"For them to see us as a strong fixture for them in pre-season is also credit to our guys."
The trip to Guernsey is the first in five pre-season games for the Pirates.
They host Rosslyn Park a week later before travelling to Aberavon on 23 August and Camborne four days later before hosting Redruth on 30 August.