Jonny Wilkinson: 'He added a whole lot to this beautiful sport'
Last updated on .From the section Rugby Union318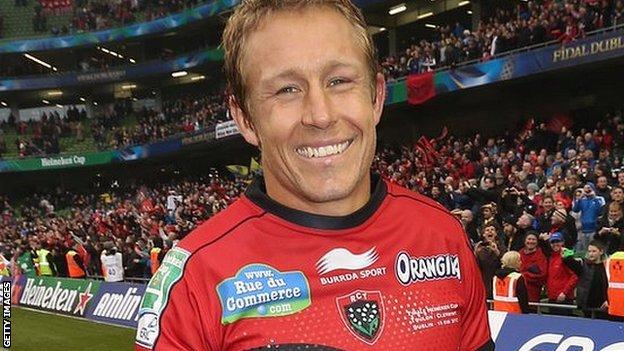 As Jonny Wilkinson announces his impending retirement - his final two games will be Toulon's Heineken Cup final against Saracens on Saturday and the French Top 14 final against Castres the following weekend - BBC Sport writes an open letter to England's World Cup-winning legend.
This is a bit tricky, writing to a man who provided me with so much joy but about whom I know so little. A man who rendered me uncharacteristically emotional and hopelessly drunk, unusually hopeful and boastful.
A man who did famous things but disliked fame. A man who was ubiquitous and seemed so close but who managed to remain so distant.
I contacted your mum and dad for a bit of background, perhaps a glowing tribute. But a nonplussed Mrs Wilkinson passed the phone to an immovable Mr Wilkinson, who politely informed me: "We prefer to stay in the background."
That short conversation was as instructive as an hour-long interview. Of course they prefer to stay in the background, just like their son always wanted to do.
But I did track down a few old rugby pals who were only too happy to contribute. Think This Is Your Life, without you or the Red Book.
'Pretty exceptional for a schoolboy...'
"He was a pretty serious guy who knew where he wanted to go." That's a view of you as a schoolboy, provided by the man who spotted your potential at Lord Wandsworth College in Hampshire, your old schoolmaster and former Wasps scrum-half Steve Bates.
"When I joined the school in 1995," said Bates, "the headmaster said to me: 'We've got a couple of excellent players in the lower sixth.' One of them was Jonny and the other one was [future England scrum-half] Peter Richards.
"Jonny had an awful lot of determination and dedication, he liked to do things properly. It was all pretty exceptional for a schoolboy in those days."
When rugby union went professional, you followed Bates to Newcastle. "Most of the guys were amateurs who had become professionals," says Bates. "Jonny's work ethic was incredible and that earned him instant respect."
'A thinker... but never the best drinker...'
When Jamie Noon joined the Newcastle academy, you were already in the senior team - apprentice to former England fly-half Rob Andrew, competing for a place in the starting XV with international veterans such as Alan Tait and Inga Tuigamala. And those boys must have taken some shifting.
"He was a pro who just happened to be 18," said former England centre Noon. "It was all a bit weird. He was intense, a thinker with lots on his mind. When he went out with the lads, he went out big. But he was never the best drinker."
Newcastle won the Premiership title in 1998 and in April that same year you made your England debut, against Ireland at Twickenham. Your rise may have been astronomical but it owed nothing to luck or wishful thinking.
"He was at the training ground before I arrived, still there after I left and still there when I arrived for the next session," said Noon. "I'd say to him: 'Have you been home and had some food?' And he'd say: 'No, I've been kicking.'
"And he was one of the fittest guys I've known. He'd do extra work in the holidays, to hit the ground running when he came back. Whether it was a short shuttle test or a long run, he would blow everyone out of the water."
'The older he gets, the better he is...'
Sixteen years later and the secret is the same, in that it isn't a secret at all. "He's the first into training and the last to leave," said Steffon Armitage, a team-mate at Toulon. "Every day he's doing weights, aerobic fitness, working on his skills, endless kicking. That's why the older he gets, the better he is."
But between then and now, something did change. It was 'that' kick - remember? It's all a bit hazy to be honest - I recall a clubhouse in Essex at an ungodly hour. I recall beer, sweat and tears. I was in bed by 11am.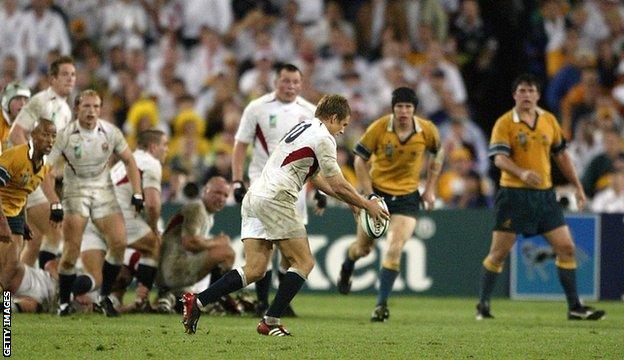 "I was 15 when we won the World Cup in 2003," said Armitage. "I'd only been playing for a few years but to see Jonny putting in those big hits, that wasn't normal for a 10. And to see him kick that drop-goal, that was a massive incentive."
"I watch my son in the garden, squatting down and clasping his hands together before he kicks the ball over these little posts," said Noon. "I say to him: 'Why are you doing that?' And he says: 'Because Jonny did it.'
"Everyone wants to be like Jonny and achieve what he achieved but I'm not sure they would want the baggage that comes with it - the pressure, constantly being in the limelight and the stress that comes with that."
'He had to wear hats all the time...'
Noon continued: "He couldn't come out with the lads. He'd say: 'Can we go here instead?' Because we would be constantly interrupted by people asking for an autograph or a photograph or just for a chat. It became difficult to cope with.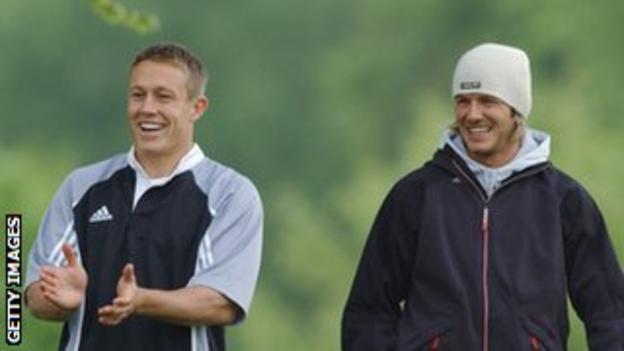 "He had to wear hats all the time in a bid not to be noticed. He grew long hair, tried to grow a beard. I remember going to his local pub in Corbridge and we all got dressed up in camouflage gear. It was a joke, but there was also a practical side to it."
Ask any member of England's World Cup-winning squad who the most important member of that squad was and there's a good chance they'll say hard-nosed and hard-grafting flanker Richard Hill. But as heroes go, Hill has always been under-sung - just how you probably would have liked it.
Indeed, some might describe you as the anti-Beckham. Both of you were born with lavish natural talent and blessed with good looks and a gruelling work ethic, but while Beckham courted and revelled in his fame, you just grinned and beared it.
It didn't help that you almost kicked England to a second World Cup title in 2007. I'm still not sure how that happened but that was what you specialised in - squeezing the pips out of pretty much any situation, as well as the rest of your team.
'He was a wacky character...'
"All that fame wouldn't have sat comfortably with me," said Hill. "I just wanted to get on with my game. And I don't think Jonny enjoyed it all that much. The pressure was heightened by the fact he knew so many people were watching and analysing him - but he analysed himself more than anyone.
"He was without a doubt an intense character who wanted desperately to achieve. But he did have a lighter side, a bizarre and warm sense of humour."
"He was a wacky character off the field," said Noon. "He loved a quiz - your first XV of movie stars; your first XV of cartoon characters; who would you snog, marry or avoid? He liked to let his hair down and was giving as a friend. He has always been there with advice, as and when I've needed it."
What is truly remarkable is that you made it to 2014. Given all those injuries you suffered in the mid-2000s, it is your longevity, rather than 'that' kick, that should be remembered as your defining miracle.
Having left Newcastle for Toulon in 2009 and won a Heineken Cup in 2013, you seem to be as fresh as ever - good food and sun does wonders for old joints. What odds a last-gasp, match-winning kick in Saturday's Heineken Cup final? Certainly worth a punt.
'He was very clear about what he wanted...'
"What makes him so special is that he never, ever gives up," said Armitage. "He'll always put his body on the line, gives everything for the team. Even the international veterans, guys like Bakkies Botha, look up to him. So imagine what it's like for a younger guy like me to be playing alongside him.
"We win the penalties and Jonny kicks them. We've got 100% faith in him. And when he's not on the pitch, he's there in spirit. We don't want to let him down, so every week we all go out there and give everything for him."
"Those injuries would have broken a lot of players," said Hill. "But each time he fought back. And he never stopped being one of the best defensive fly-halves and one of the best pound-for-pound tacklers I played with or against.
"Attacking-wise, he was very clear about how he wanted to play and utilise those around him. And that's not to mention his kicking. It was a great confidence boost for your team and dented the morale of the opposition.
"I vividly remember his last successful penalty kick in the first half of extra time in the World Cup final. You could see the Australians thinking: 'Oh God, not another one.' The length and accuracy of it hammered home to the Aussies that every chance they gave him, he was going to punish them."
'He added a whole lot to this beautiful sport...'
Two more games and it will be time to put those sacred feet up. No longer the need to beat your team-mates to the gym, no longer the need to hone your tackling, passing and kicking. But needs take time to recede.
"He'll be a bit lost not playing rugby," said Noon. "He'll have a bigger void than anyone else because of how much work he put in. But whatever he decides to do - and it looks like he'll kick off his coaching career at Toulon - he will be the hardest-working at it. That's just the way he is."
We know you never played the game for praise but I hope you take time to read the tributes before ploughing on again. And praise doesn't come any higher than this, from your old rival and All Blacks legend Dan Carter.
"What Jonny taught me most is that you're not going to fluke success," said Carter, the only man to score more international points than you. "He'll be a huge loss - he added a whole lot to this beautiful sport."