Welsh rugby future bleak if no WRU deal, warns Mark Davies
Last updated on .From the section Rugby Union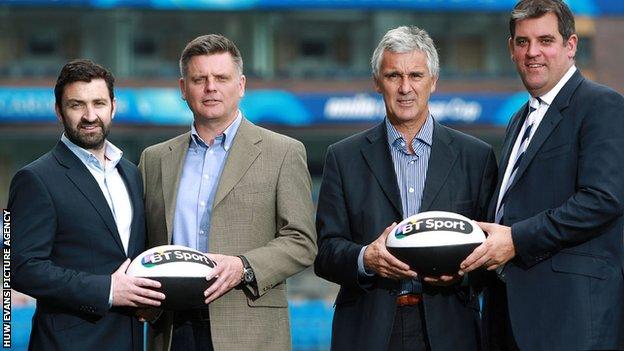 Mark Davies says the Wales rugby regions and the Welsh Rugby Union (WRU) could be damaged if the two sides cannot reach a deal over funding.
"If we haven't got an agreement in place then that brings all of our businesses into question," he said.
The WRU declined to make any public statement on the matter.
"Perhaps today is an illustration that it would appear that BT have more confidence in regional rugby than our Union," added Davies, who also claims the two parties are "still not anywhere near close" to a deal.
The current funding deal between the regions and the WRU expires next month and Davies, who is also Scarlets chief executive, said: "If we cannot reach an agreement the effects could be as profound for the WRU as for the regions."
RRW represents Cardiff Blues, Newport Gwent Dragons, Scarlets and Ospreys.
It is understood that informal talks between the WRU and regions are continuing, with the union having previously said they are keen to clinch a deal in the best interests of the game.
The regions are partly funded via the WRU in an agreement which guarantees a set level of income and covers the release of players for Wales international duties.
Other funding comes via participation in competitions.
Davies, who is also Scarlets chief executive, has previously claimed that a new offer to replace the current contract - known as the participation agreement - which ends on 30 June does not offer enough money to the regions.
A number of high-profile Wales international players have made big-money moves to play in France or England in recent seasons, with the Welsh regions often unable to match the wages on offer elsewhere.
These include British and Irish Lions Leigh Halfpenny (Blues to Toulon), Richard Hibbard (Ospreys to Gloucester) and Jonathan Davies (Scarlets to Clermont Auvergne) who all leave this summer.
Wales captain Sam Warburton was also targeted by clubs outside Wales, but signed a central contract with the WRU to stay in Wales with the intention of continuing to play for the Blues.
The four Welsh regions are currently unwilling to field centrally contracted players.
On the pitch in the 2013-14 season none of the Welsh teams reached the knockout stages of the European Cup or the play-offs of the Pro12.
Davies claimed the deal with BT Sport is a step in the right direction.
"We've learnt that surely we can be much more effective working together, and this agreement with BT is an example of that," he said.
"Unfortunately despite a couple of years of attempted engagement we're still not anywhere close with an agreement with the Union.
"I think over the last two-and-a-half years we've done absolutely everything and more that we could to try to find solutions."