Welsh Rugby Union explains plan to restructure Welsh League
Last updated on .From the section Rugby Union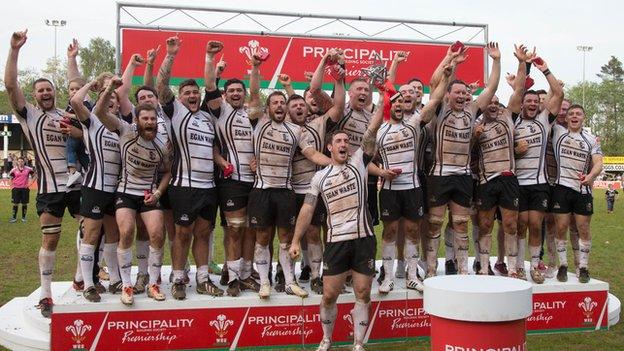 The Welsh Rugby Union has written to each Welsh League club explaining its plan to restructure the divisions next season along more geographical lines.
The WRU said it was "well aware of the concerns expressed by some clubs".
"It is vitally important you study the league document... to take an informed view of its impact," read the letter.
"We all realise that it is impossible for any radical change to achieve unanimous support across our club structure.
"But it is the view of the WRU that the structure as proposed addresses in a reasonable manner all the issues which have been raised."
Former WRU chief executive David Moffett, who is also the ex-chief executive of Regional Rugby Wales, has claimed enough support from member clubs to force an EGM, with 43 clubs - including the four professional regions - apparently making valid applications for the meeting.
A no confidence vote at an EGM could force out elected members, giving Moffett the chance to return in a different role.
The WRU says the league restructuring was prompted by concerns raised by some clubs in the 2012 WRU census, which included "travel costs, travel time commitments on players and volunteers, and the desire to restore local derby matches".
Welsh rugby's governing body also says that "an unprecedented number of clubs were unable to complete their league fixtures this season".
The letter goes on to reveal the proposed format of each division for next season, with the rules for relegation and promotion, but stresses that both geography and meritocracy are important concerns in the league format.