Heineken Cup final: Jonny Wilkinson stays humble to the end
By Chris Osborne
BBC Sport at Millennium Stadium
Last updated on .From the section Rugby Union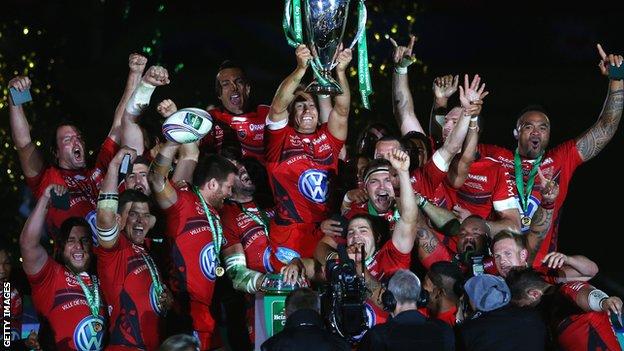 Jonny Wilkinson may be reluctant to sing his own praises, but his Toulon team-mates have no such inhibitions.
"It's Sir Jonny," proclaims back rower Juan Martin Fernandez Lobbe after the former England fly-half is introduced to the press as merely "Jonny Wilkinson".
While a knighthood is perhaps a prospect one day for a man whose drop goal won the World Cup for England in 2003, the adoration of the people of Toulon is an immediate guarantee after he captained the French side to a second successive Heineken Cup title.
It happened with a victory over Saracens, at Cardiff's Millennium Stadium, one day before his 35th birthday and a week before a Top 14 final against Castres. After that comes retirement.
His is a 17-year career that took in 91 England caps, a record number of World Cup points, and of course that moment 11 years ago when a last-gasp drop goal against Australia cemented his position in England's sporting conscience.
But do not believe the hype. Those accomplishments are not of Jonny's making. No. It has all been an illusion. And here is why.
"I've tried to keep my feet on the ground because otherwise someone is going to realise I'm a bit of a fraud," Wilkinson explains, moments after being serenaded by 72,000 appreciative supporters in Cardiff. If only they all realised he does not deserve any of it.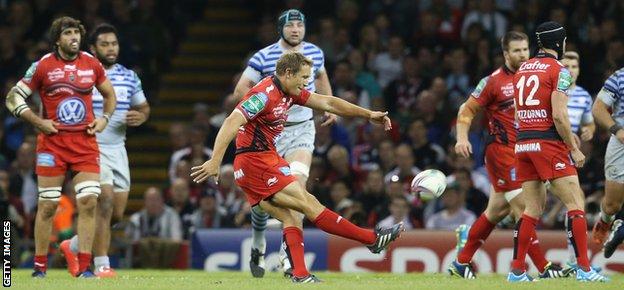 "I've made no secret of the fact that I've been over-supported and given way too much respect," Wilkinson insists. "I've been given an easy life compared to others who deserved more and haven't had it.
"You are lucky enough to be around great teams and individuals like you have here and they are the guys who make the difference. But they are not the guys who get cheered at the end of the game like I did.
"If I sat back and thought about all the people who have given me too much in my life it would be emotionally quite difficult to take.
"I do a job that is my passion and who can be luckier than me? And guys go out of their way to cheer for you. It's humbling."
Whether Wilkinson believes his own words remains to be seen. But the 34-year-old is kidding nobody.
And, while his dedication to technique and preparation is undeniable, his achievement of helping Bernard Laporte's carnival of superstars gel into a world-beating team deserves equal billing.
South African legends Bakkies Botha and Bryan Habana, Australian wizards Matt Giteau and Drew Mitchell, French fighters Xavier Chiocci and Mathieu Bastareaud. They have all been moulded into a team that can lay claim to being Europe's best.
"I still look enviously at the guys around me because I want to be doing what they're doing," says Wilkinson, who is yet confirm his plans for post-retirement, but has strongly hinted he will remain on in some capacity at Toulon.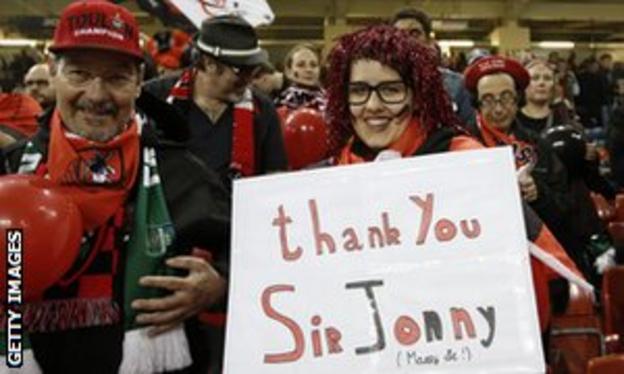 "I know my time is not now. But I'm not one for looking back. I'm more eager to follow where these guys go. It continues for more one week and after that I don't know - it's going to be a bit of a shock. I'll take a break and try to accept that it's no longer my job to run out on the field but to help others do it better."
Among those taking Toulon forward will be the England forward Steffon Armitage.
Man of the match at the Millennium Stadium, the 28-year-old flanker-turned-number-eight has been overlooked by his country since deciding to play his rugby over the Channel, winning the last of his five caps in 2010. It must surely be only a matter of time before that omission is rectified.
Toulon will also be able to boast Leigh Halfpenny next season, when he joins from Cardiff Blues. He will have the unenviable task of replacing Wilkinson from the tee.
Ask the fly-half for his opinion on the Wales full-back and he speaks of his "consistency of ethics and values". That's Jonny speak for "he's a good egg".
So he leaves the French giants in good shape, perhaps primed for a period of European domination. Not that Wilkinson is getting carried away.
"If you can be like a Munster or a Leinster and keep finding yourself in semi-finals and finals every year - that's as good as you can ask for at the moment," he says.
It is a hallmark feet-on-the-floor statement from Wilkinson. Never too high, never too low.
But there is a small, fleeting possibility that the man renowned for being as impassioned off the pitch as he is magnificent on it, will allow himself a moment to bask in a Heineken Cup celebration on his birthday on Sunday. "At least for the weekend, yes, it is a fantastic present."